selected courses
selected works
common syllabi
a platform to share and explore syllabi in higher education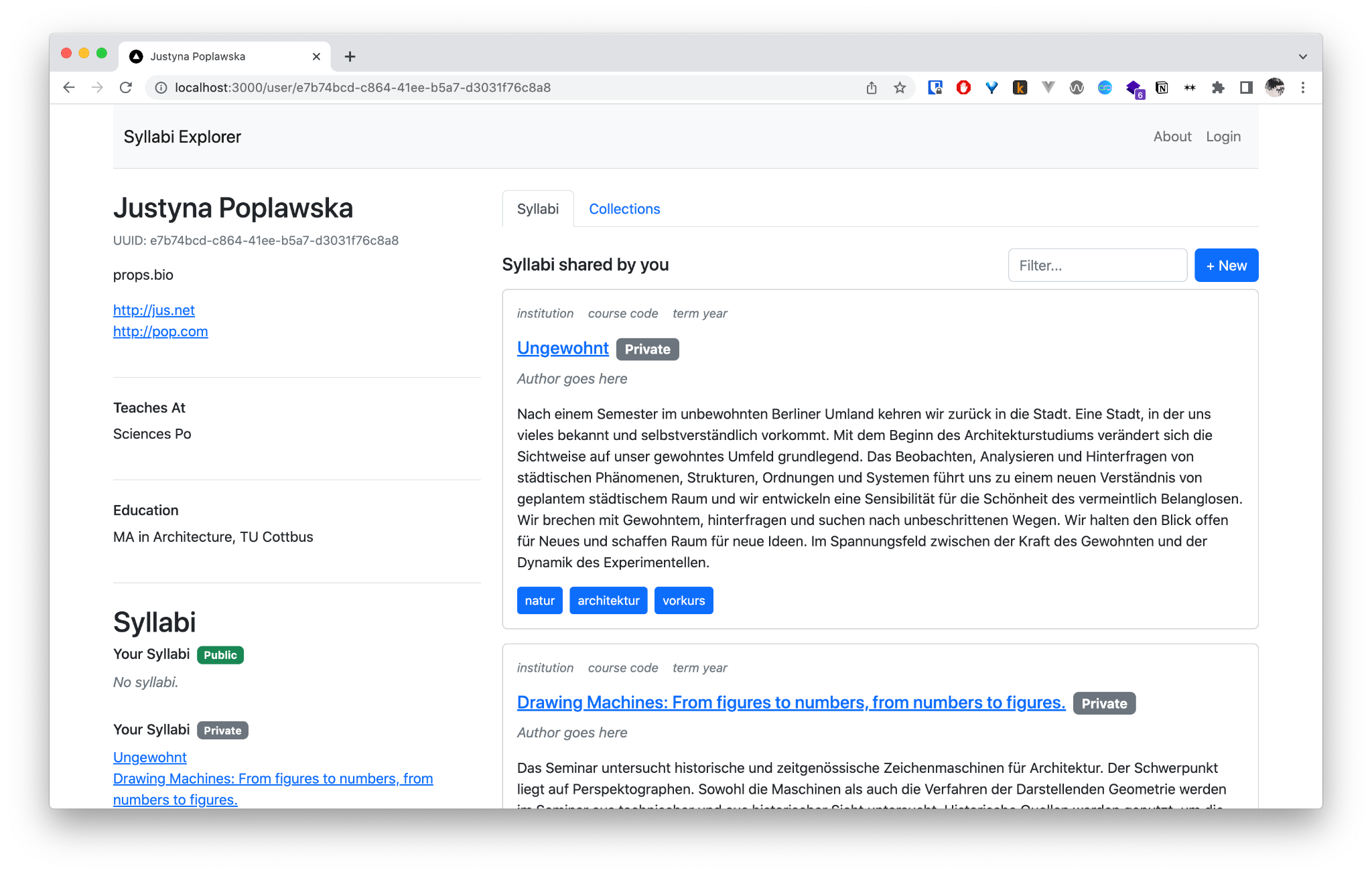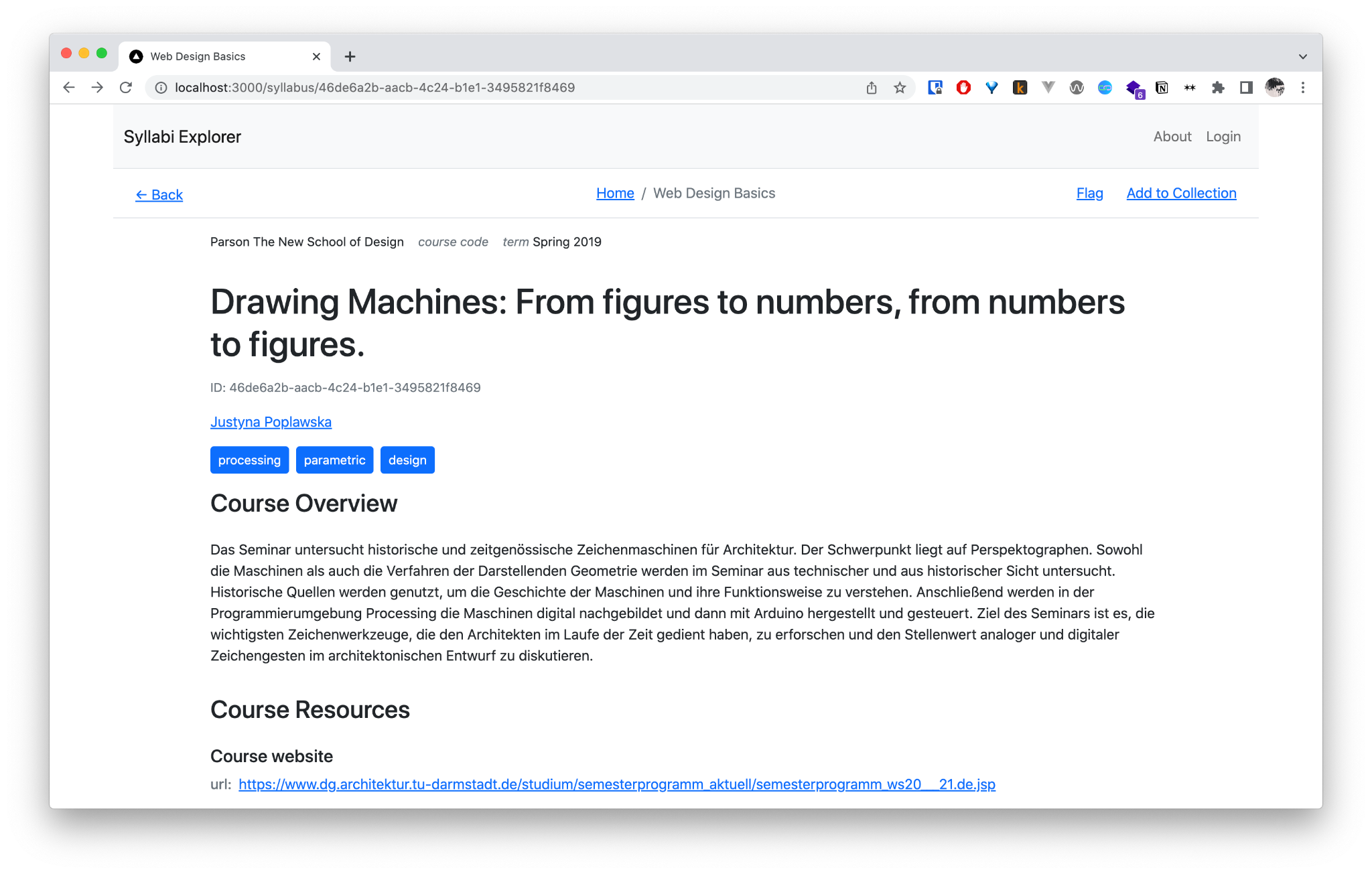 This project aims to address the lack of openly browsable repositories of syllabi and curricula. Currently, the curricula designed by educators are too often locked away behind the walls of proprietary software and institutional accounts. Despite the fact that educators typically own the intellectual property rights to the course material they develop, there are few tools that specifically support the open sharing and discovery of learning materials between teachers.
By and large, education is a field that thrives on open sharing and collaborative progress, and our goal with Syllabi Explorer is to create a platform that enables wide access to curricula.
This is supported by a grant of the german
Federal Ministry of Education and Research
, via the
Prototype Fund
.
I did most of the development in Go, with the help and mentoring of
Tobias Schmidt
, while
Pat Shiu
built the front end. The concept, user research and interface design has been a shared endeavour.
the sun sets 184 times
artistic encounters on a virtual cartography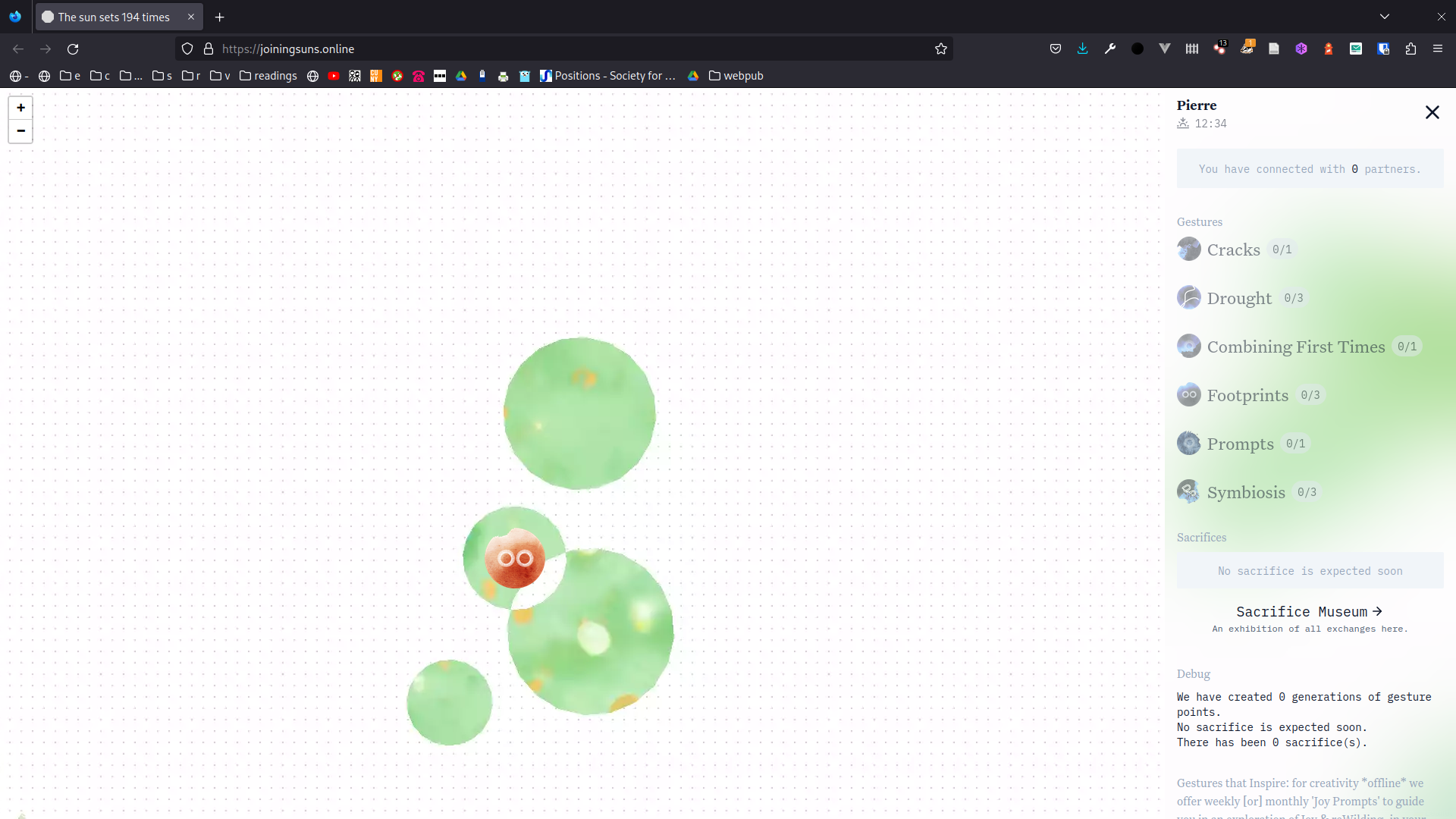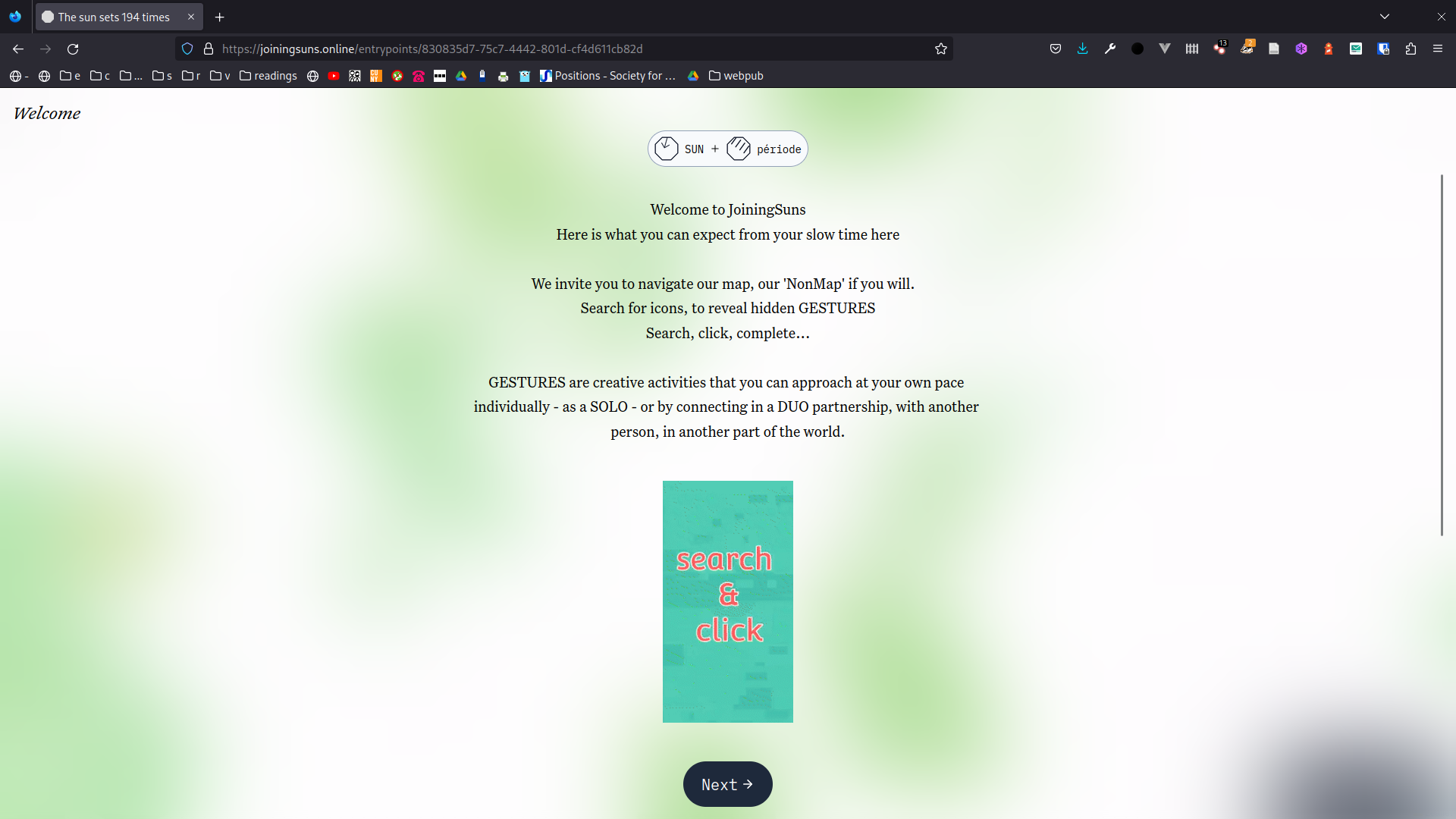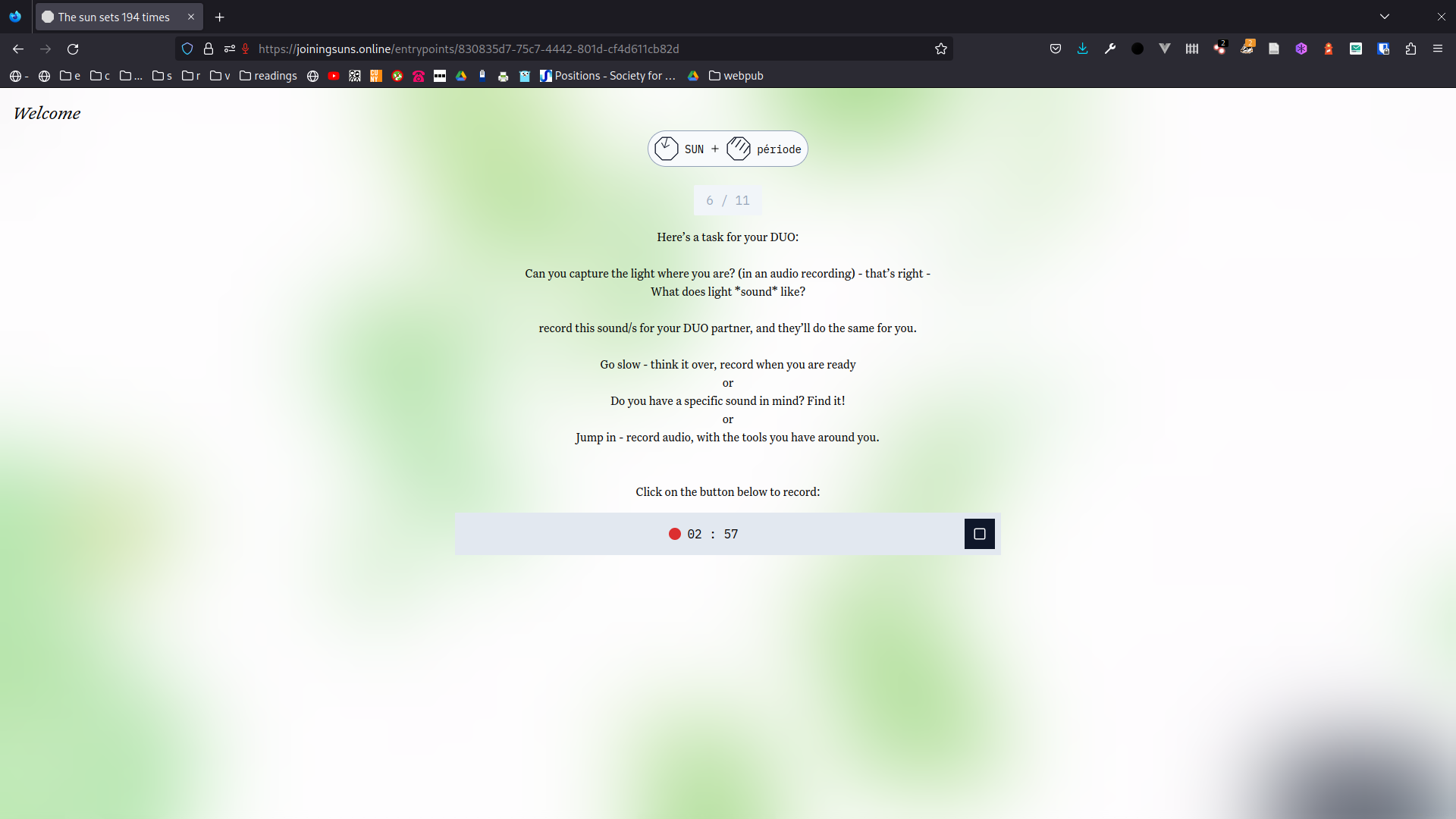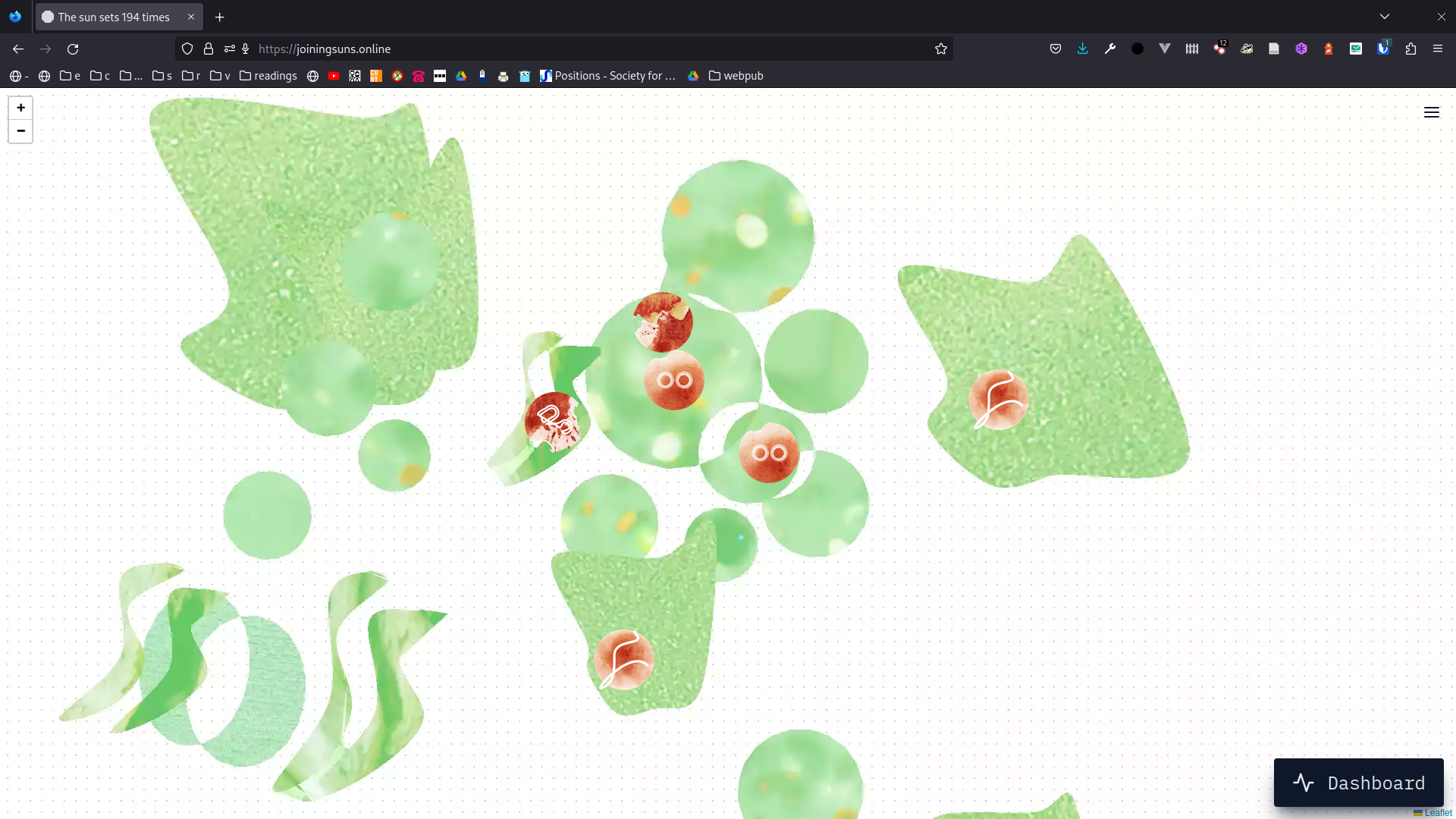 The sun sets 184 times is a web platform designed and developed for
Theater Aufbau Kreuzberg
. The idea is to offer to visitors the exploration of a "NonMap", an evocative space where points of interest appear and evolve organically.
Designed by artists across the globe, these points of interests suggest moments of communion, expression and self-reflection through multimedia input and interactivity.
The suns sets 184 times was supported by the Kulturstiftung des Bundes.
I did the backend development work in collaboration with
Célestin Meunier
, who led the design, as we both worked on the frontend development. The creative direction was provided by Daniel Hengst and Lydia Zemke.
vertiges
personal messaging for public performances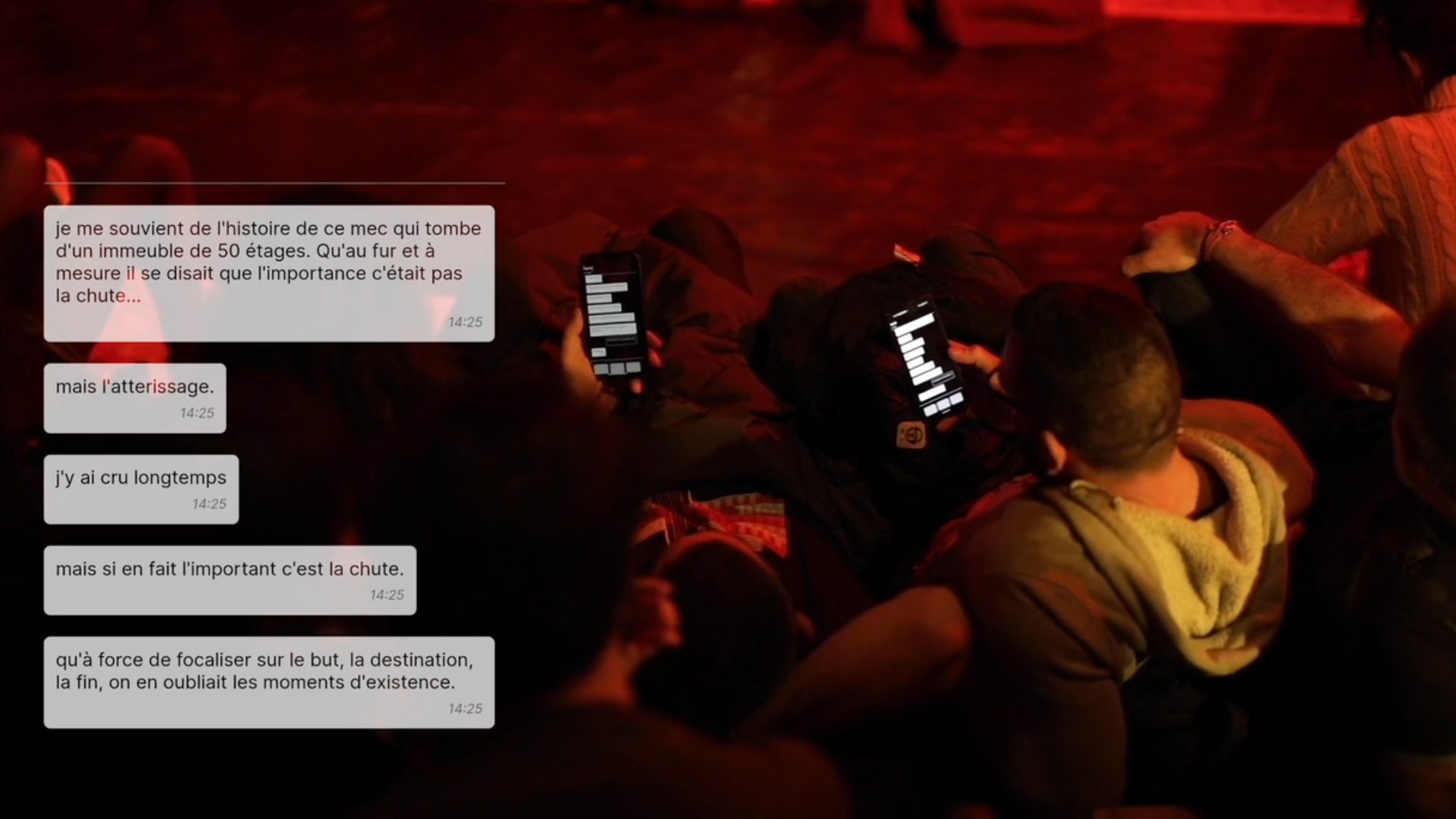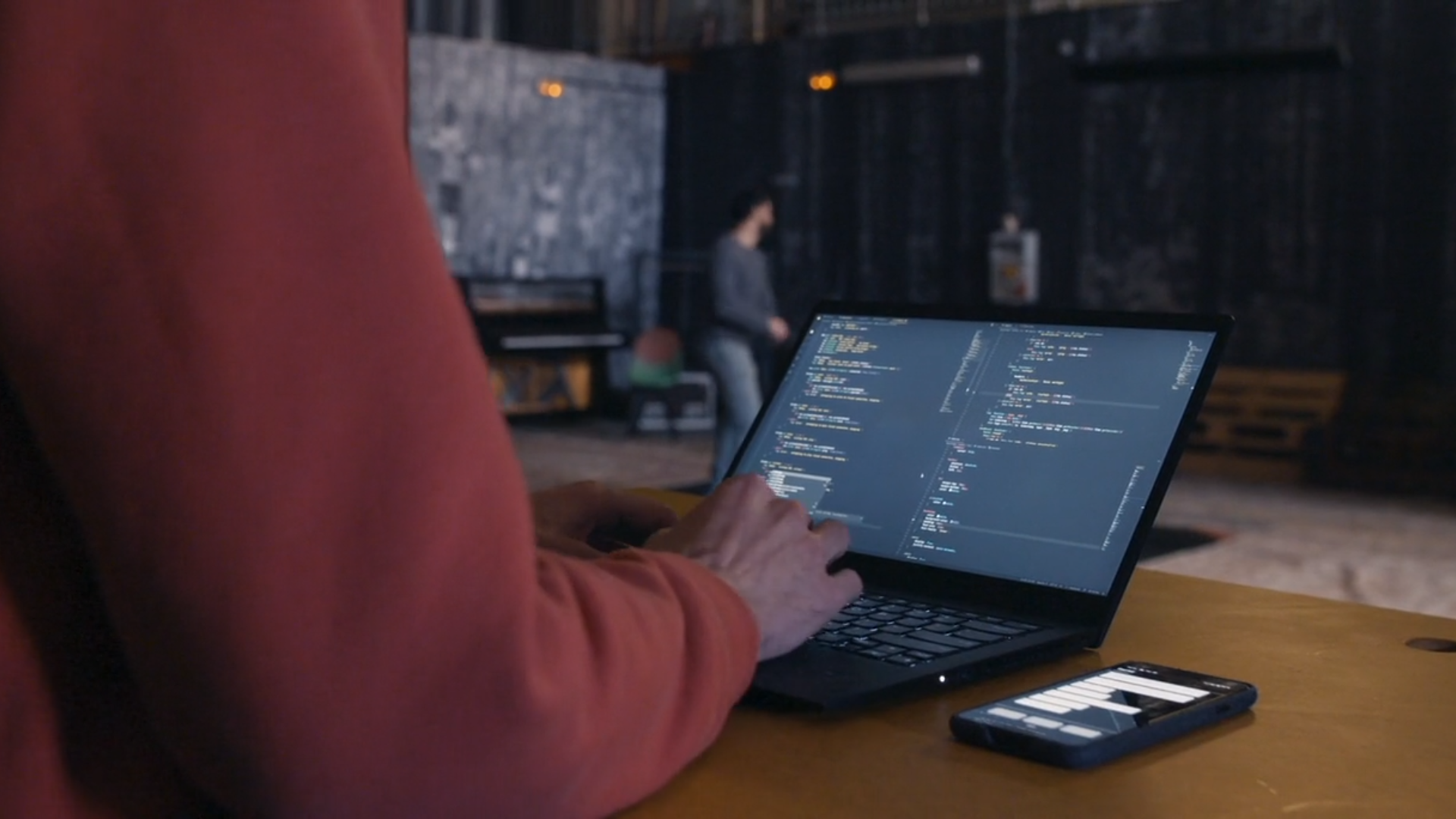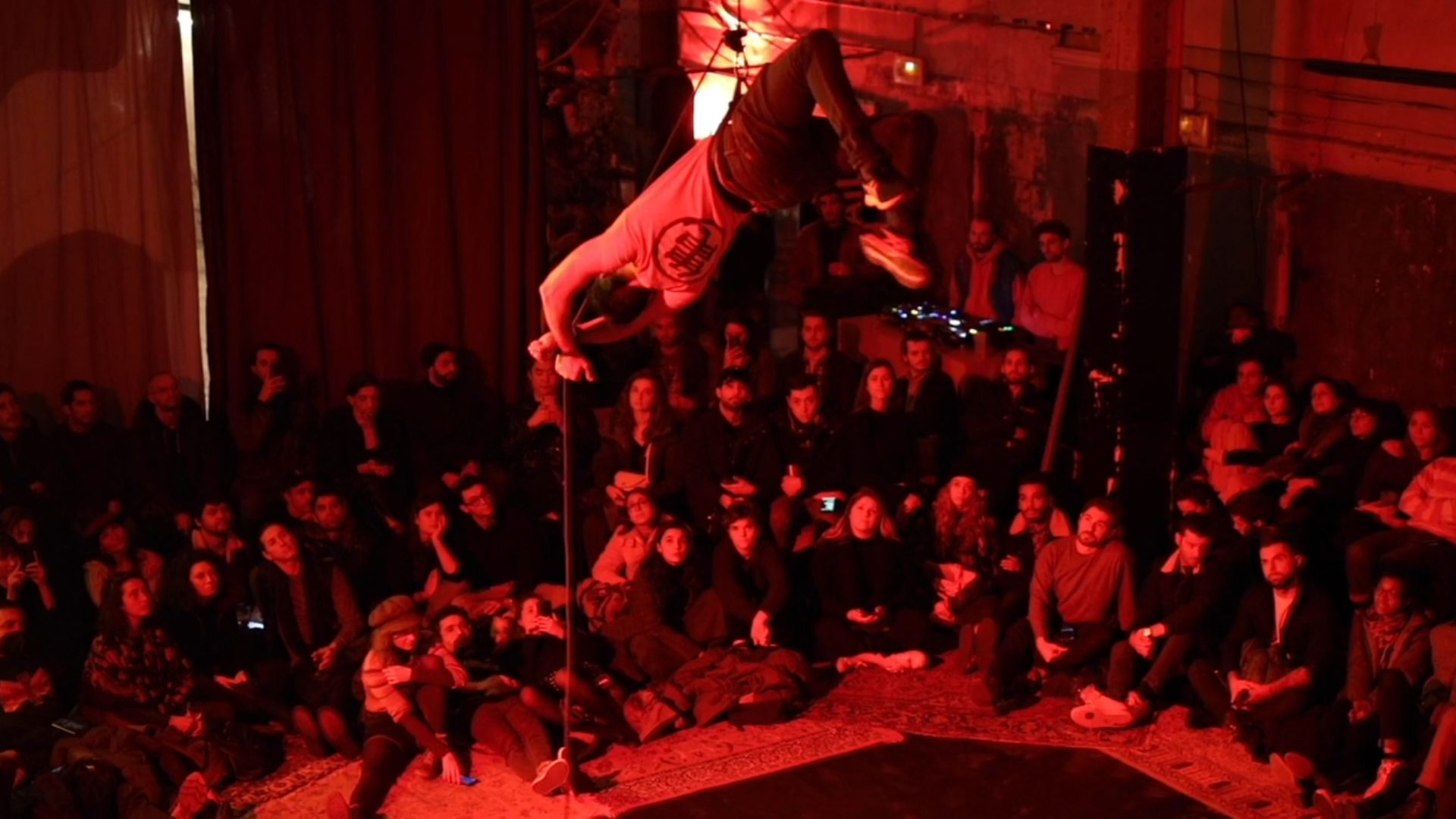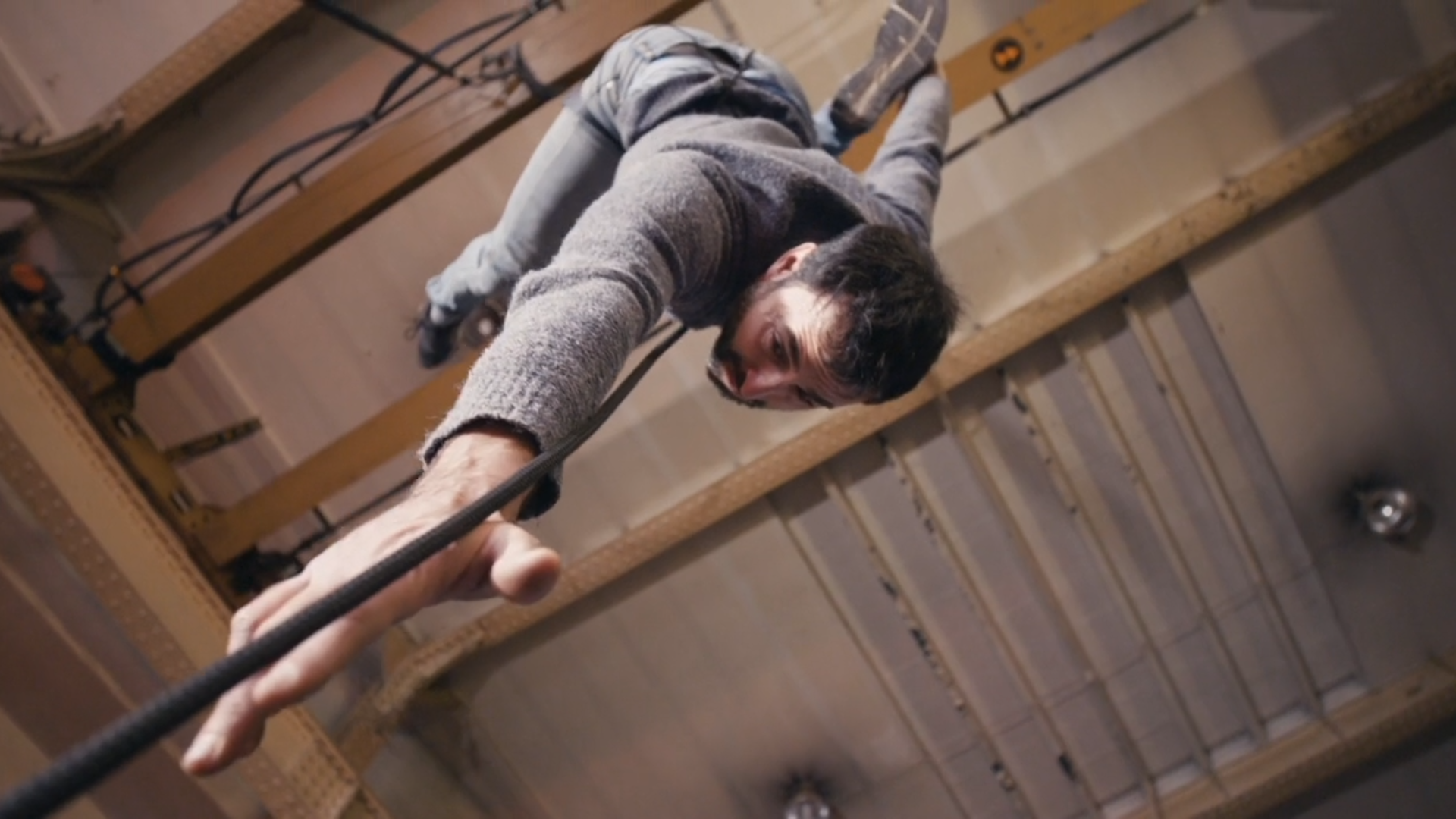 Vertiges is the latest iteration of a series of works in collaboration with the choregrapher
Farid Ayelem Rahmouni
. This physical theater piece uses our ubiquitous smartphones to examine themes of freedom, constraint, intimacy and multi-faceted personalities. Entering the venue, audience members download a messaging app to their smartphones. On it is only one contact: the performer.
Touching on themes of class, queerness, seduction and police violence, a monologue gets sent as instant messages on the audience's smartphones. Half-modern day subtitles, half-modern day diaries, these devices constitute our research object, as we investigate what kind of narrative they support, and how digital media can complement live presence.
Vertiges will have its world premiere at the
Scène Nationale d'Annecy - Bonlieu
.
I did most of the development work on the messaging application, the backend server and the lights programming, with invaluable help from
Damien Dabernat
. The text has been written by Farid and I.
the lab
a week-long community event of sharing works in progress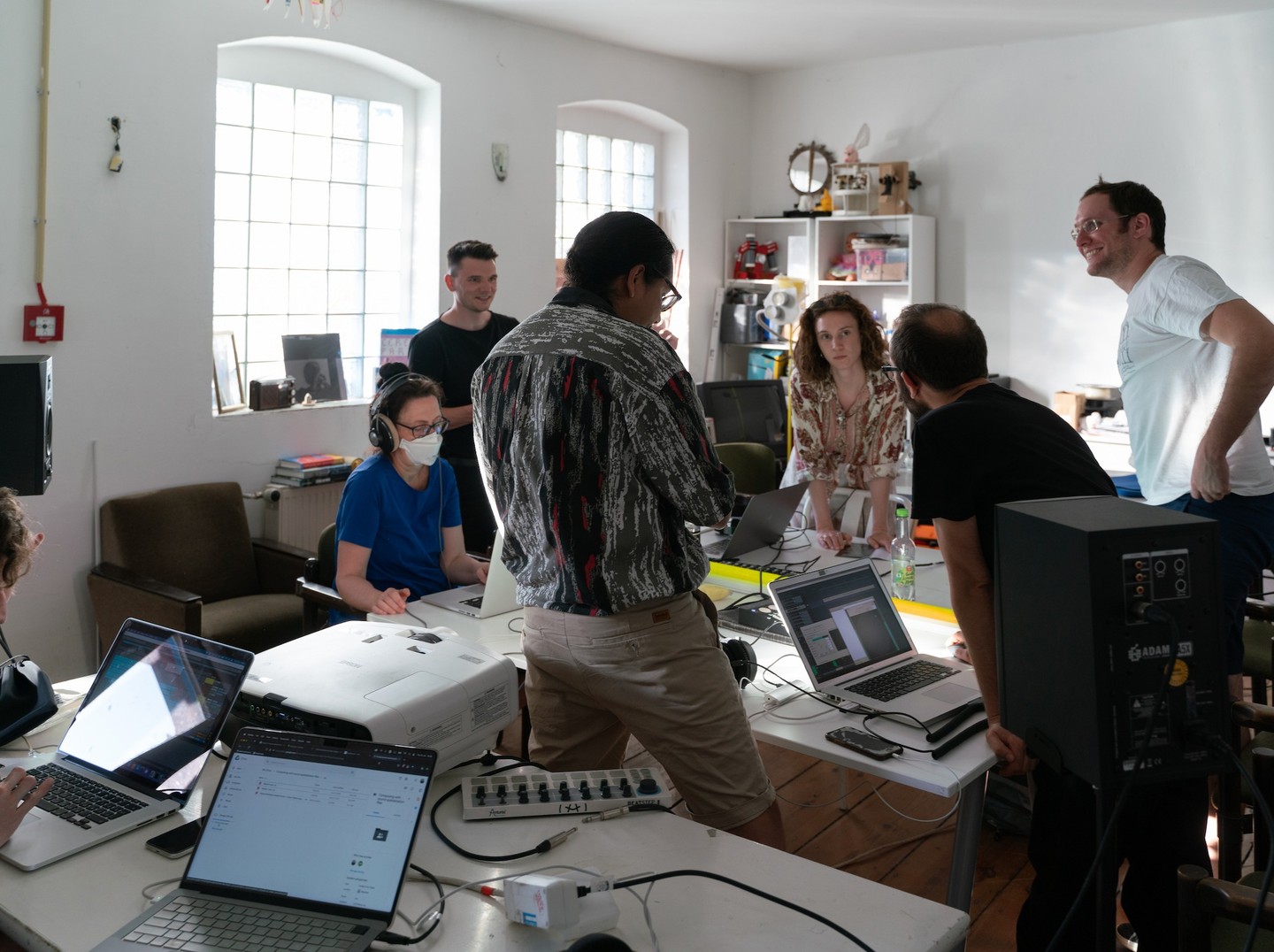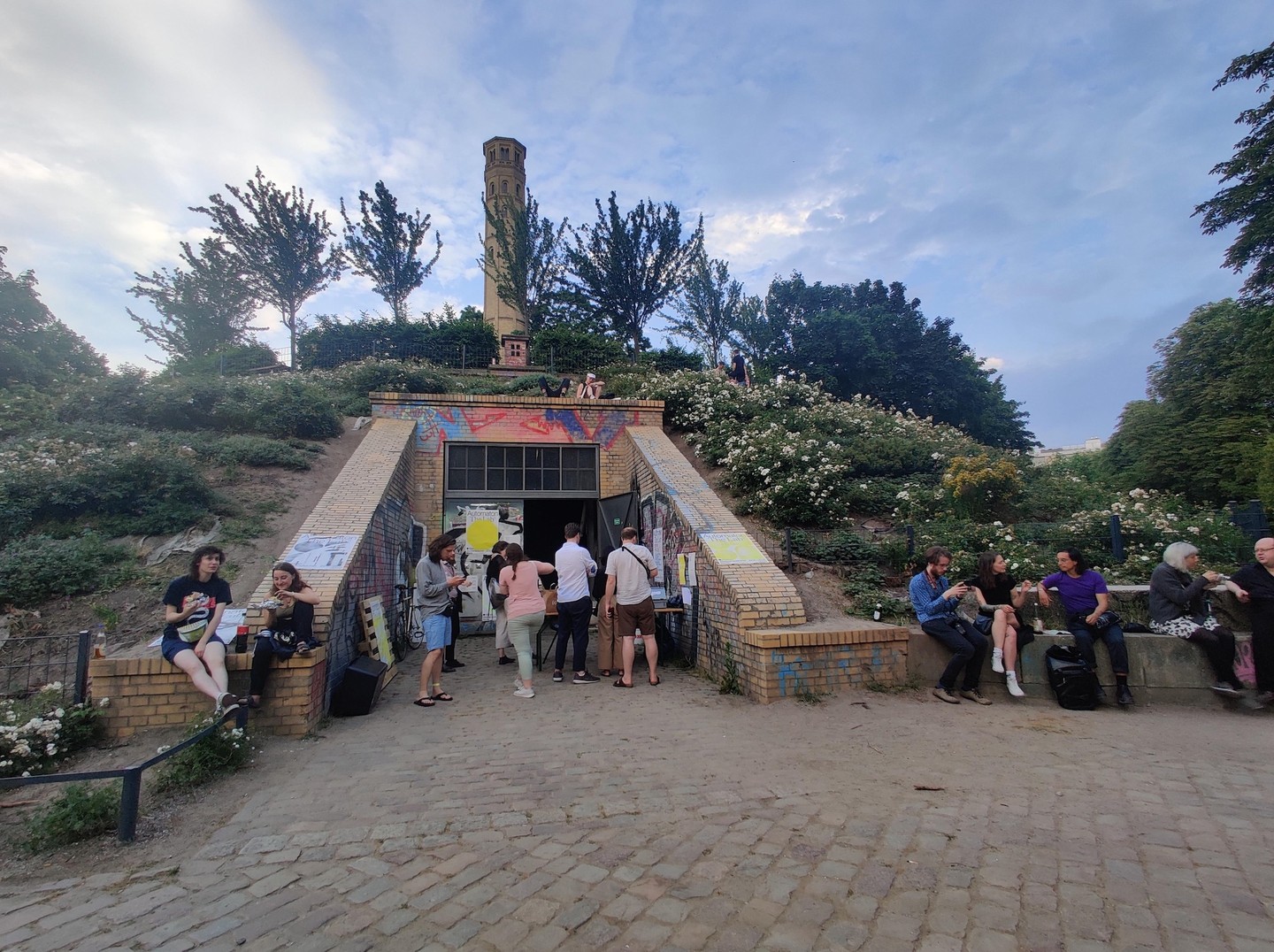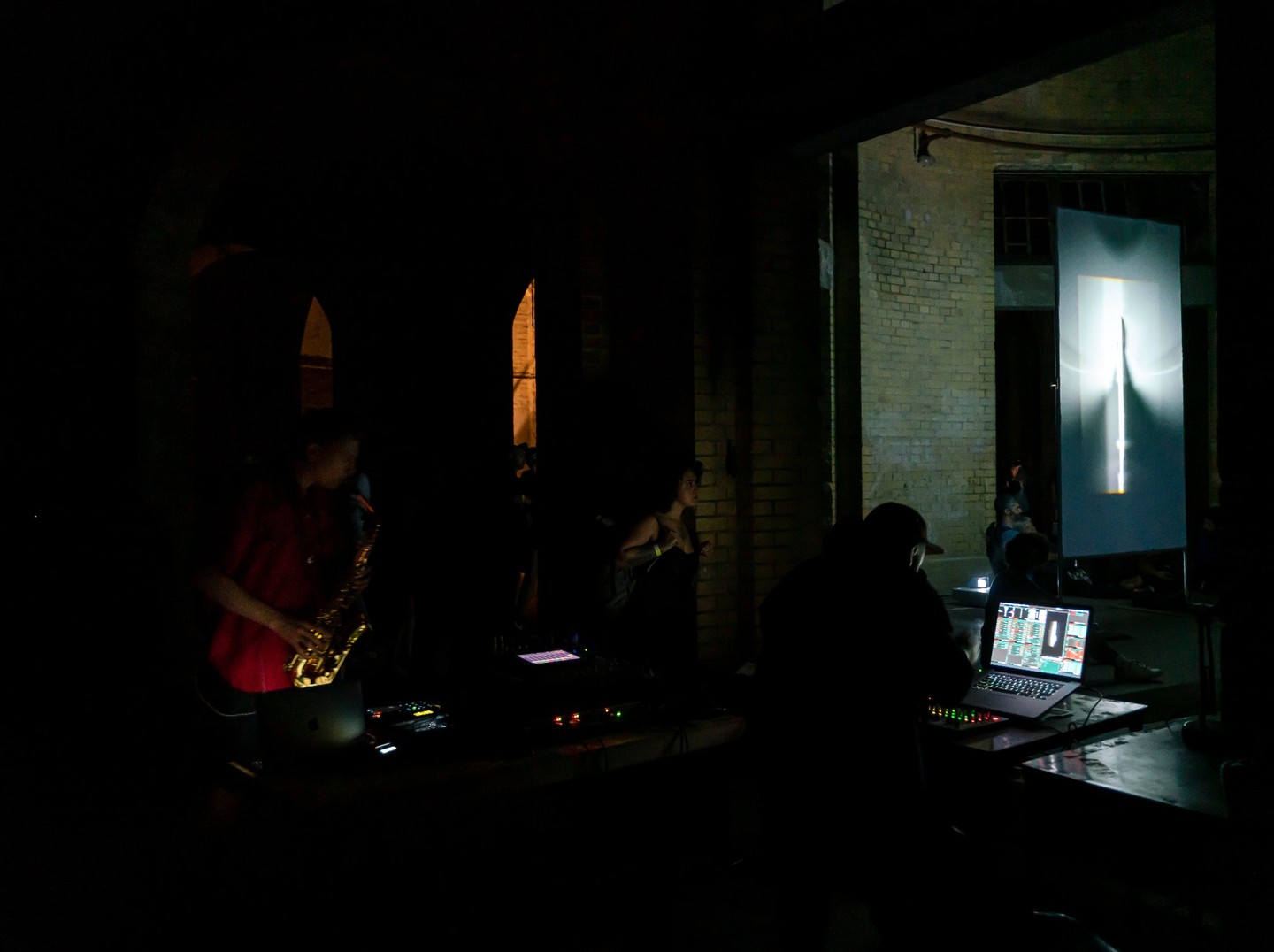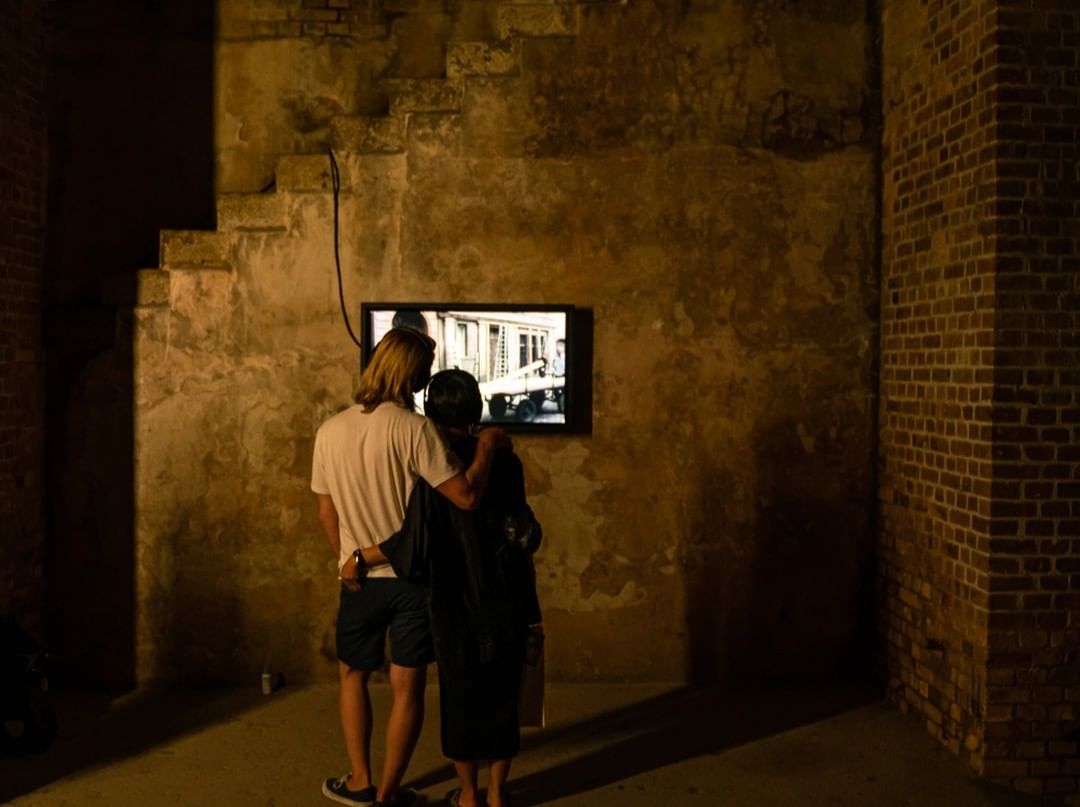 The Lab is
Automaton
's ongoing series of community events. In June 2022, we organized the latest installment in Berlin's
Kleiner Wasserspeicher
, a 19th century watertank, focusing on the concept of
work-in-progress
. Combining workshops, exhibition and performances, the selected artists were ranging from professional media arts studios to bachelor students and all presented on-going work rather than finished pieces, paying attention to the value of process, trial and error in the creation of something good.
As a part of Automaton, I was in charge of the production of the event, along with artist relations—coordinating the scenography, materials and people, and fostering an environment in which everyone was happy to install their work, meet fellow community members and reconsider what it means to show work.
cultural futures
sharing case studies from across the cultural sector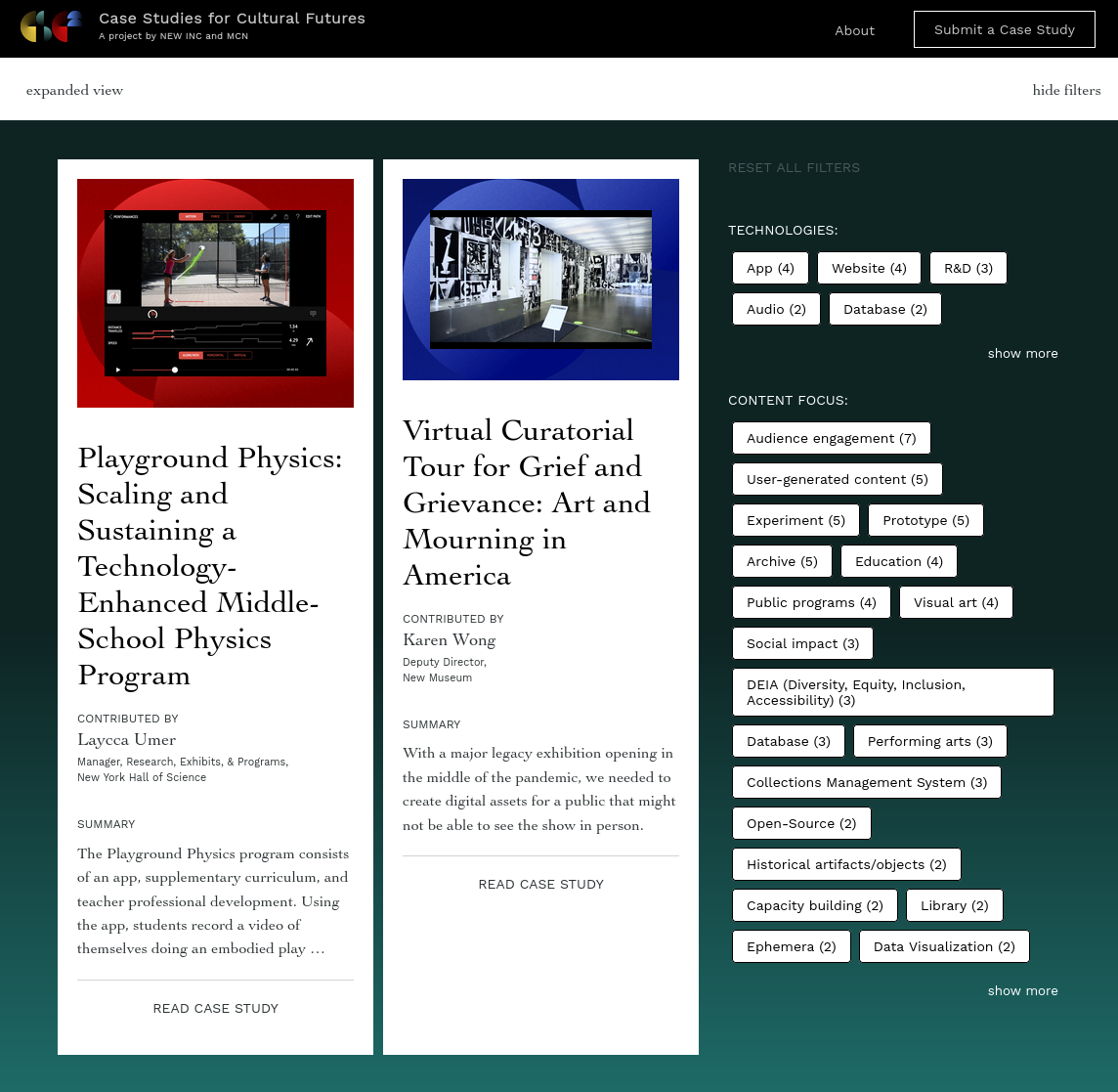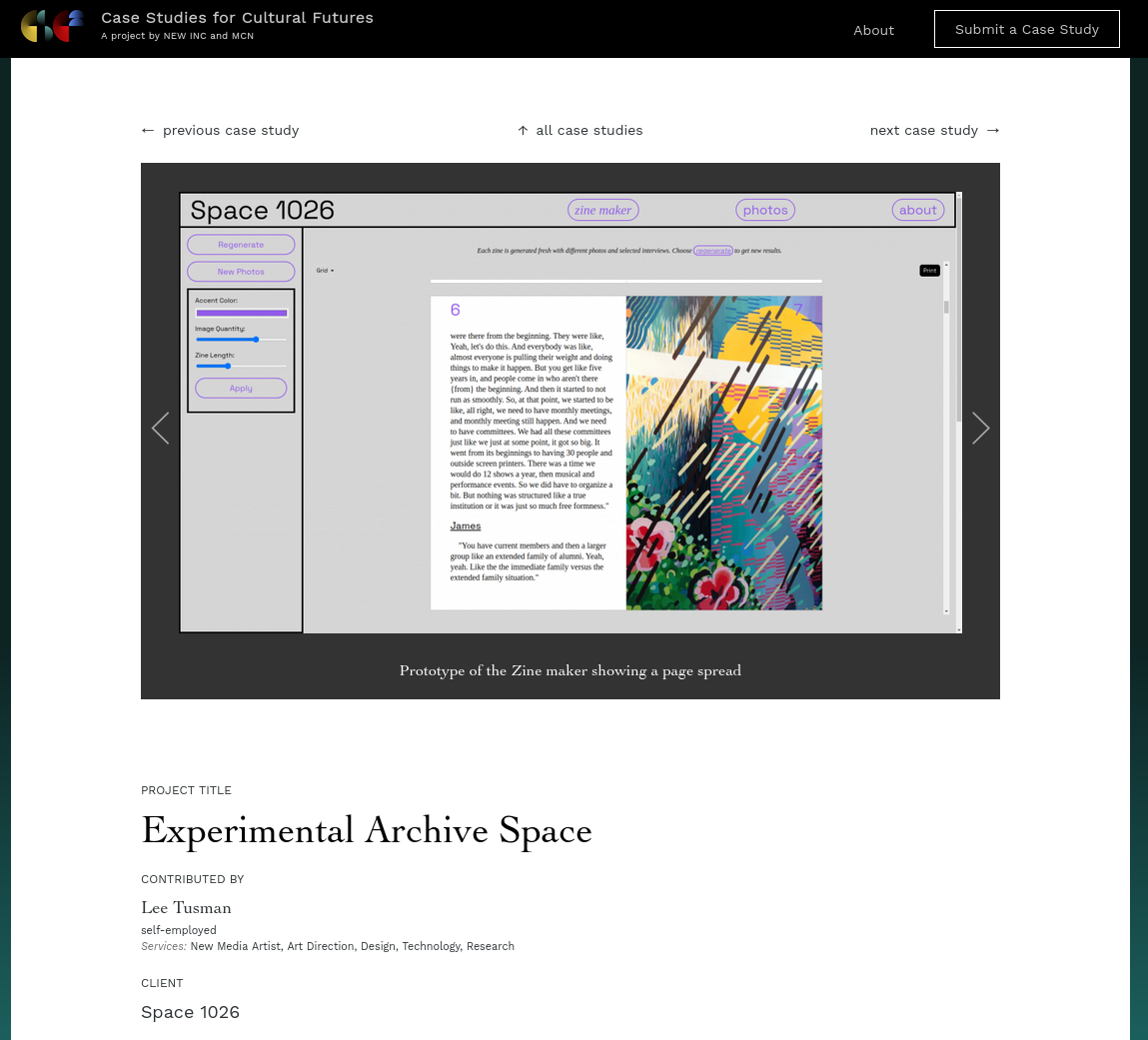 Case Studies for Cultural Futures is an initiative to collect insights and how-tos from cultural organizations' experiments with new technology.
By bringing together project-focused stories from across the sector, we wanted to build a repository to foster an open exchange of knowledge in the museum world.
This was made for
NEW INC
and
MCN
, funded through the Knight Foundation.
IA fictions
online international colloquium on fiction and ai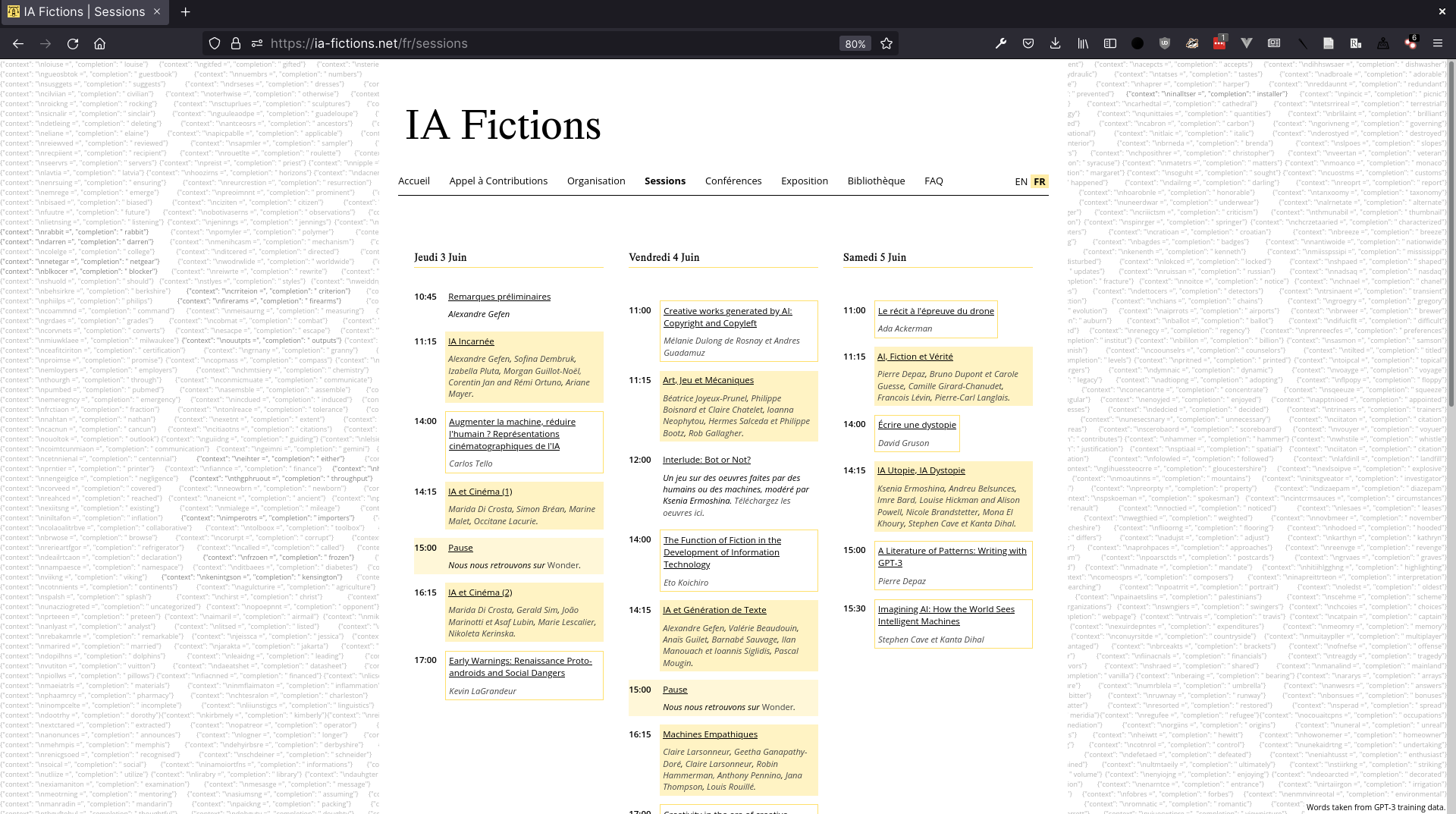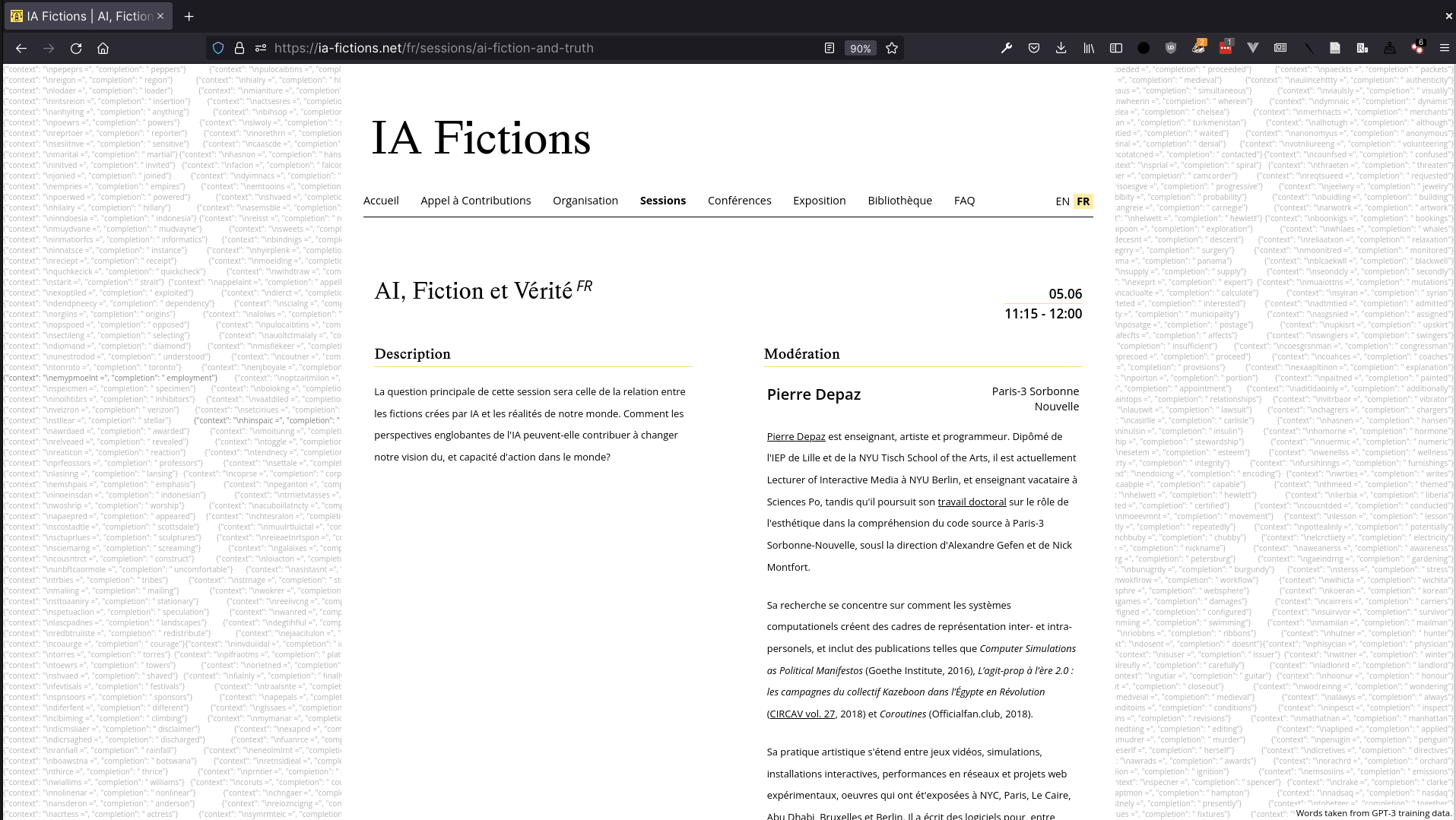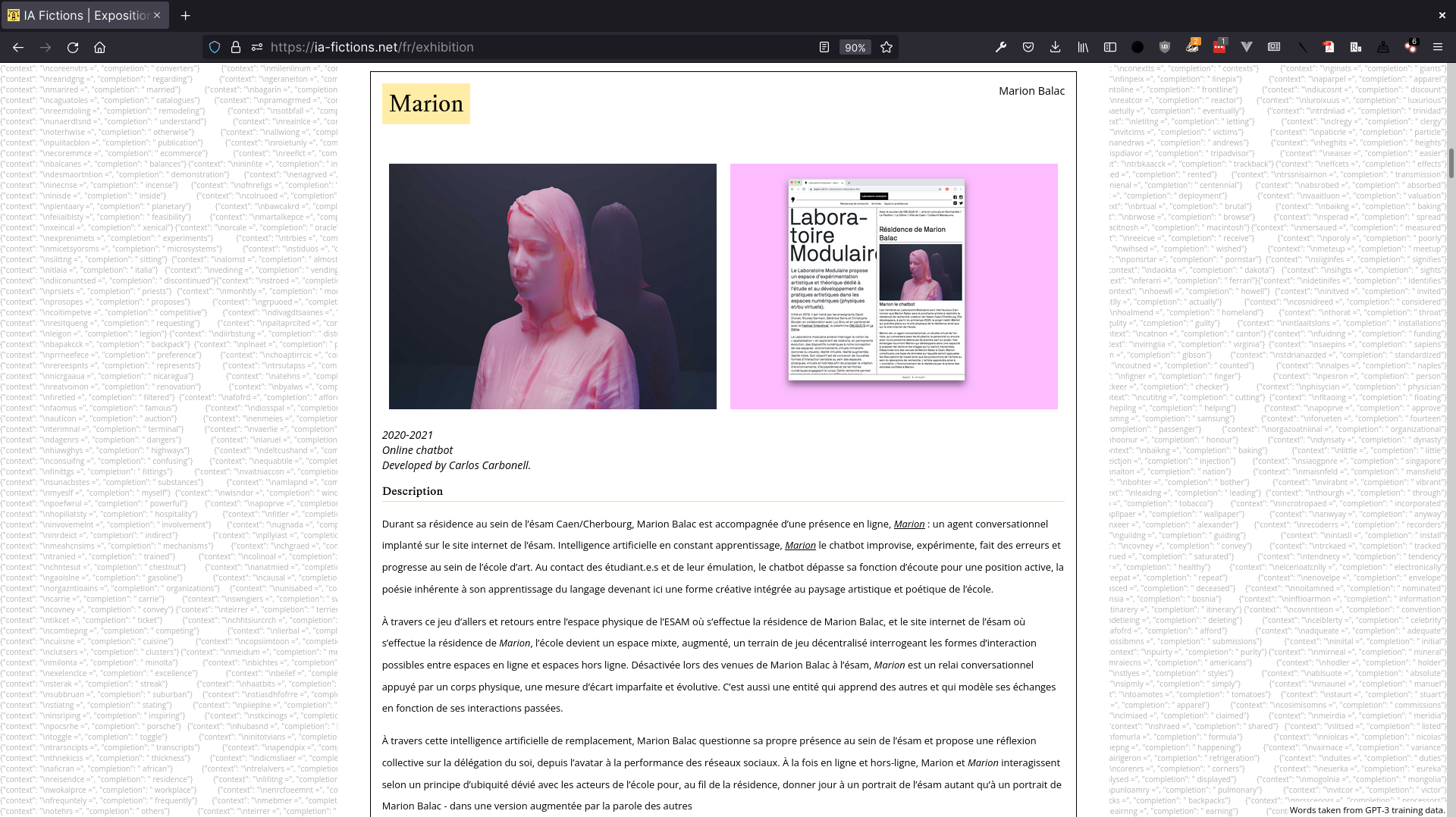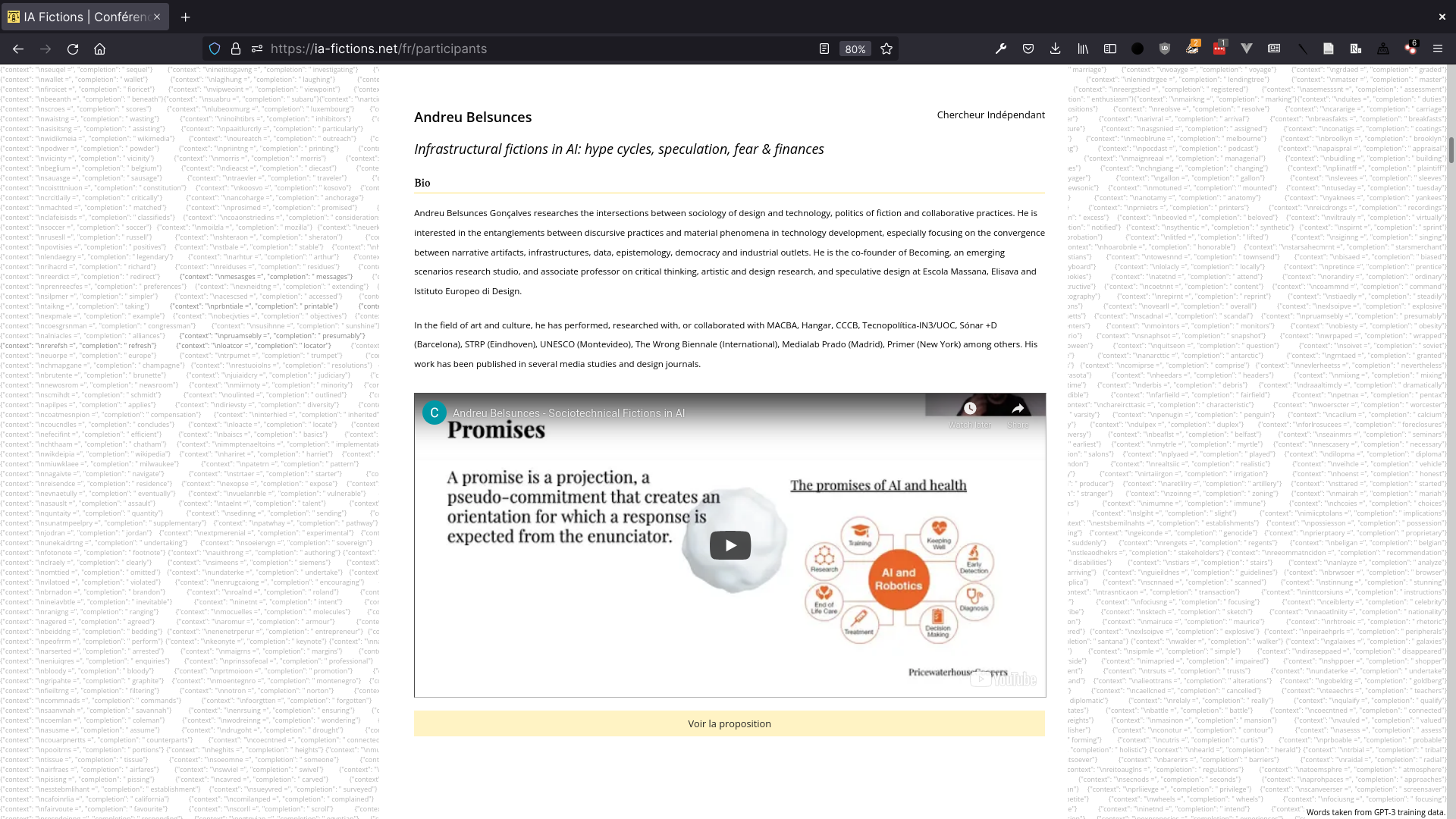 I assisted my thesis advisor Alexandre Gefen in organizing and hosting an international conference on the relationship between AI and fiction.

The conference was switched from in-person to online, which meant that I now had to establish a digital space which could act as the nexus of participants' engagements and contributions.

We decided that, rather than unilateral, live deliveries of the talks, these would be pre-recorded and uploaded to YouTube and the live sessions were reserved from Q&As. Additionally, an online gallery was established featuring works of digital artists, and a collaborative pad set-up to build a shared library of references.
I designed and built it using the
Kirby
PHP framework, and implemented and coordinated all organizational details.
multimodal
digital tools for teaching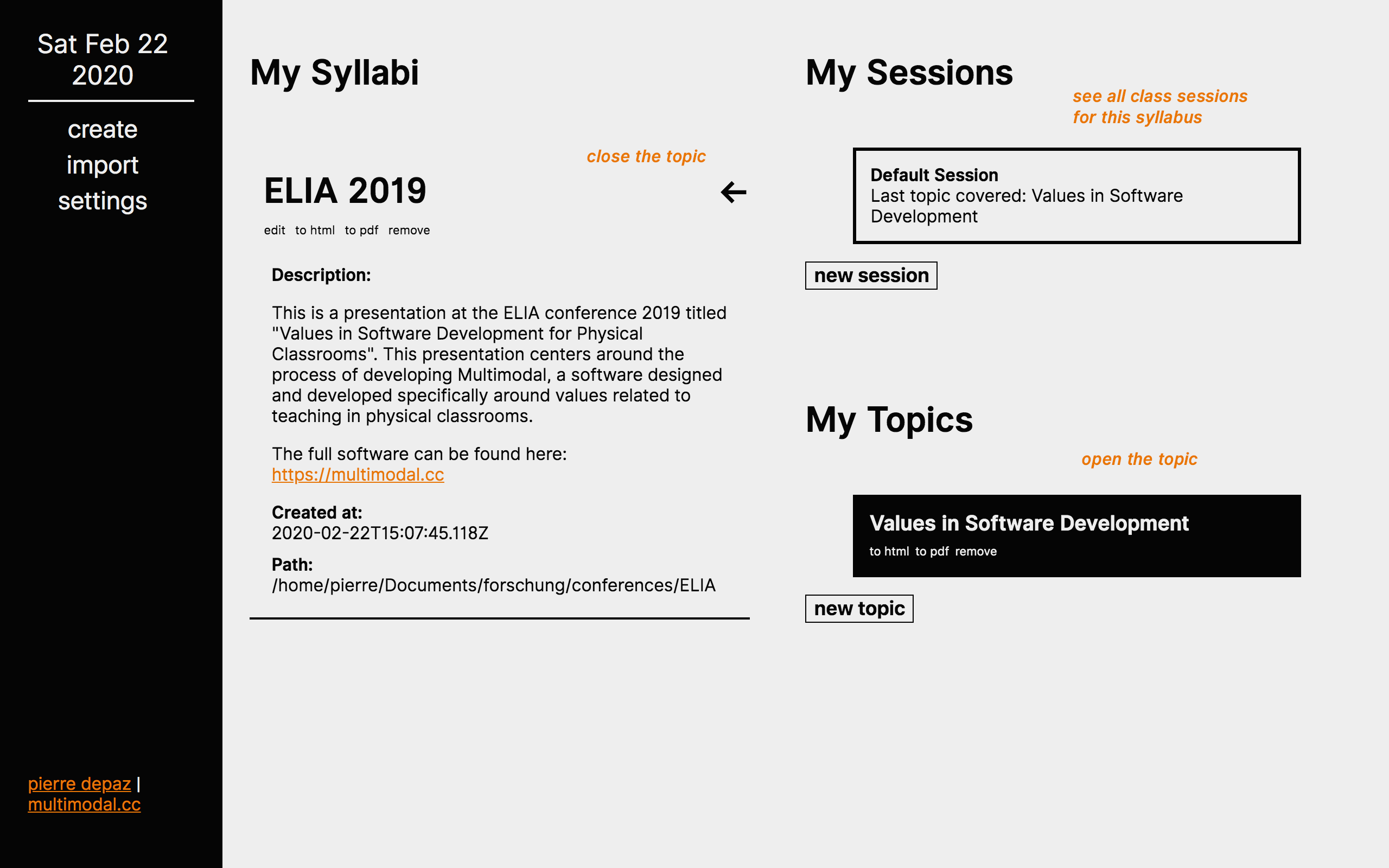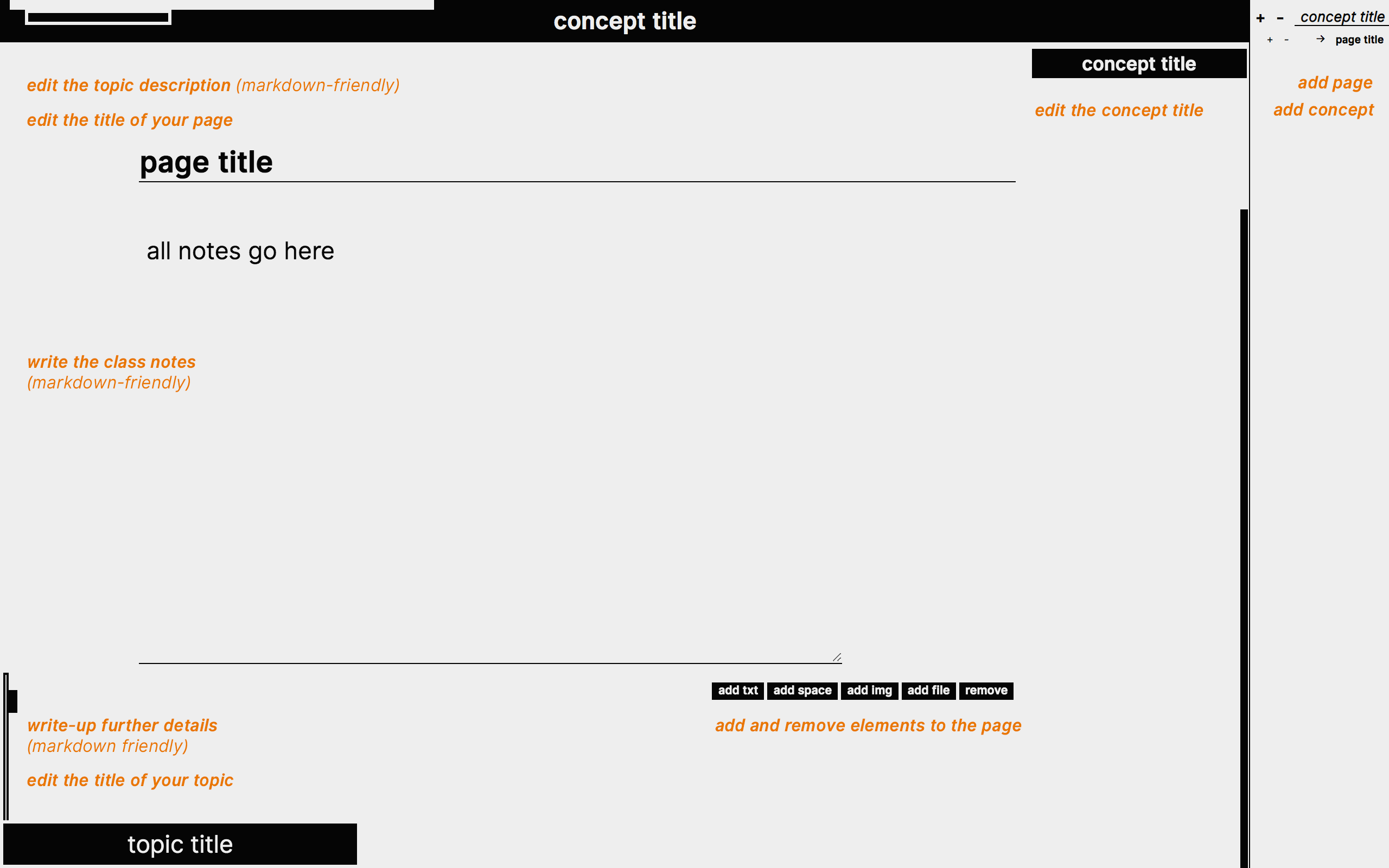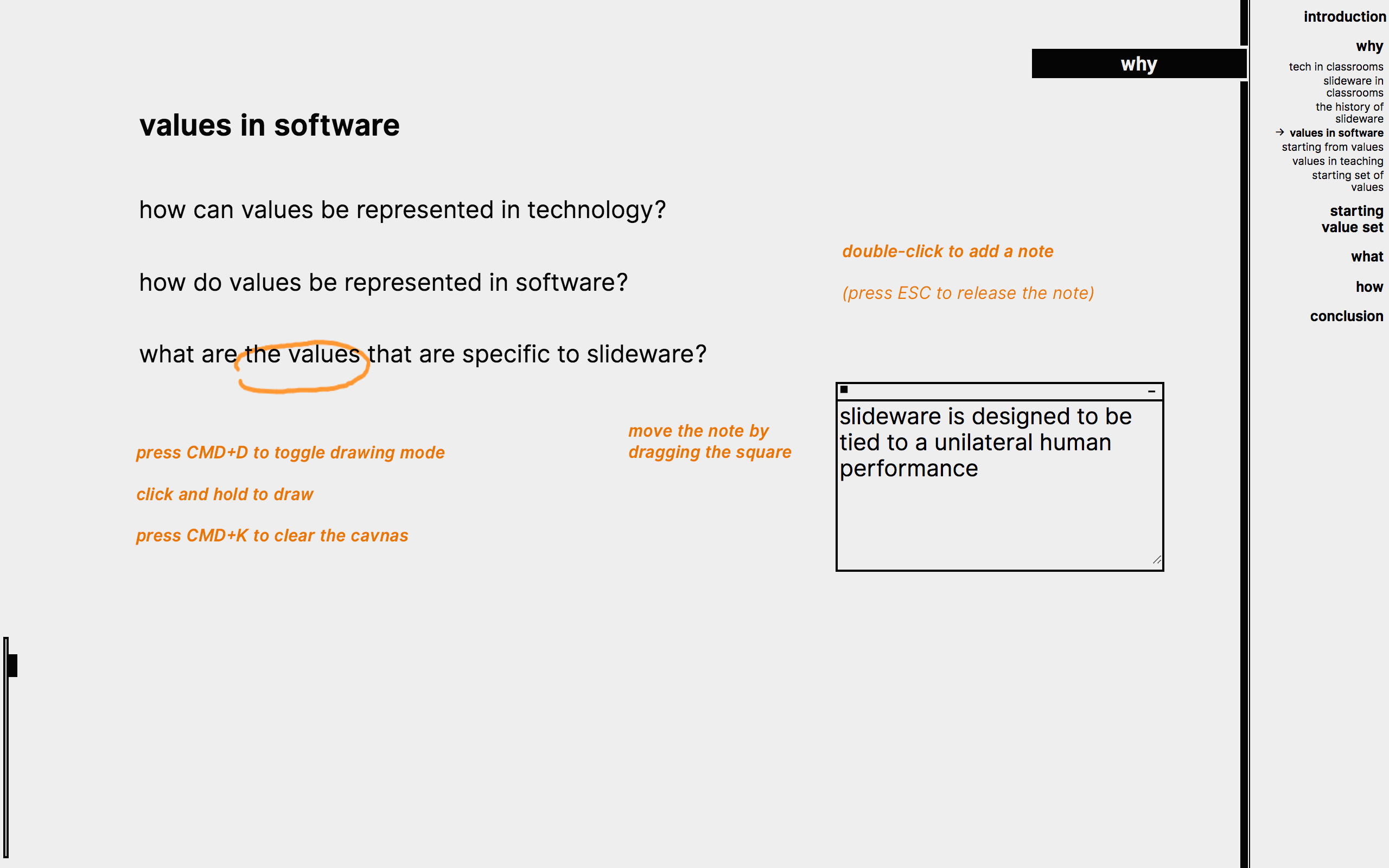 Multimodal is a software I've been developing for the past couple of years to support my teaching practice. The idea came out of the frustration with the rigidity and assumptions of existing slideware (google slides, keynote, powerpoint, etc.), and with the need to switch frequently between multiple windows and applications when preparing and presenting materials.

Leading office tools today still implicitly carry the outdated assumption: flat hierarchy, strict separation between presenter and audience, isolated exports. Trying to shoehorn the often iterative creative research process into the office tools paradigm, results unsurprisingly in inefficiencies and scattered materials.

Working on Multimodal is an iterative process of design, development and use, always making sure that the technical aspects never get into the learning process in the classroom. As such, it is constantly in beta testing.
I designed and built it using the
Electron
framework, in collaboration with Pat Shiu.
smart border
guerilla wifi against border digitalization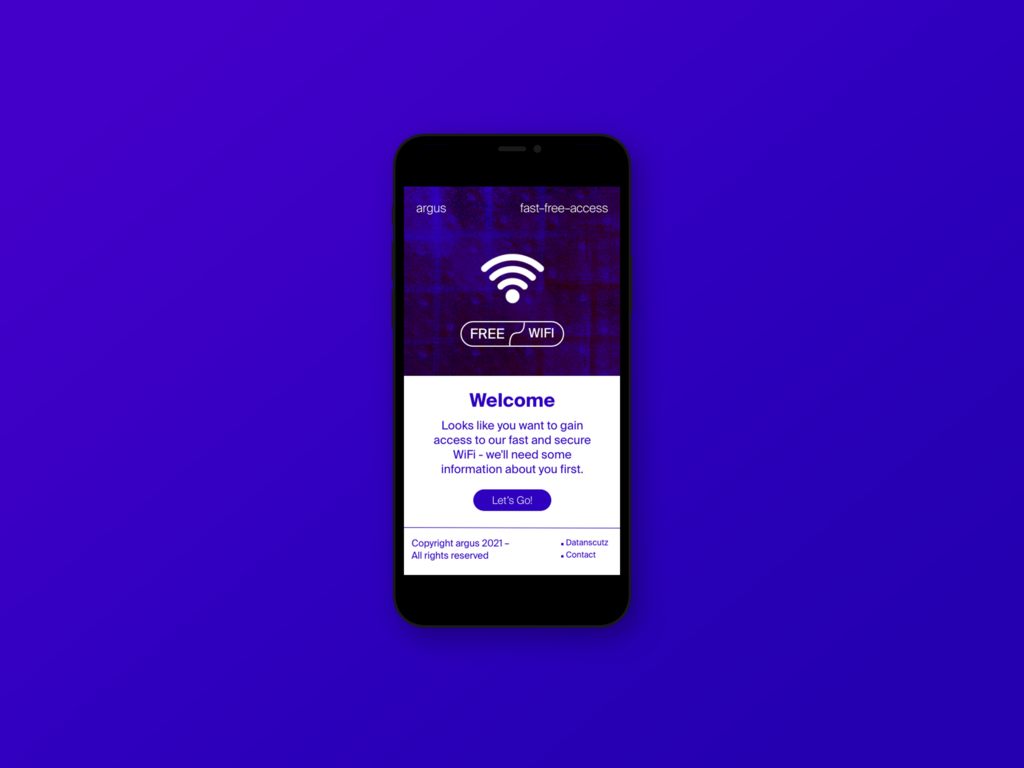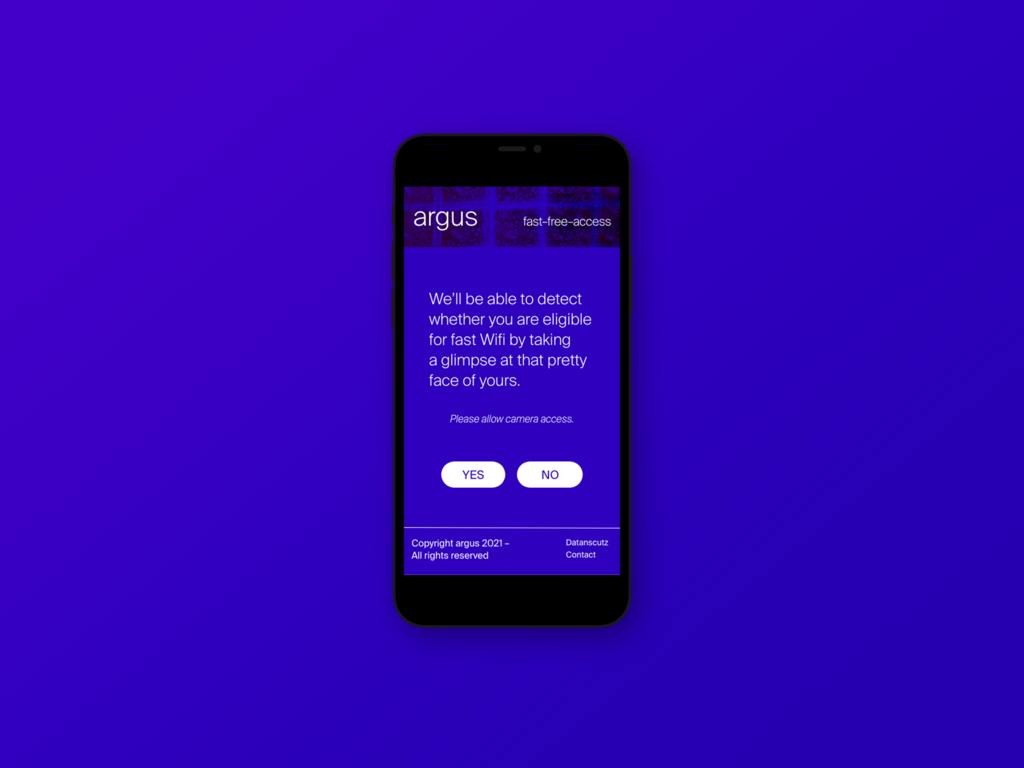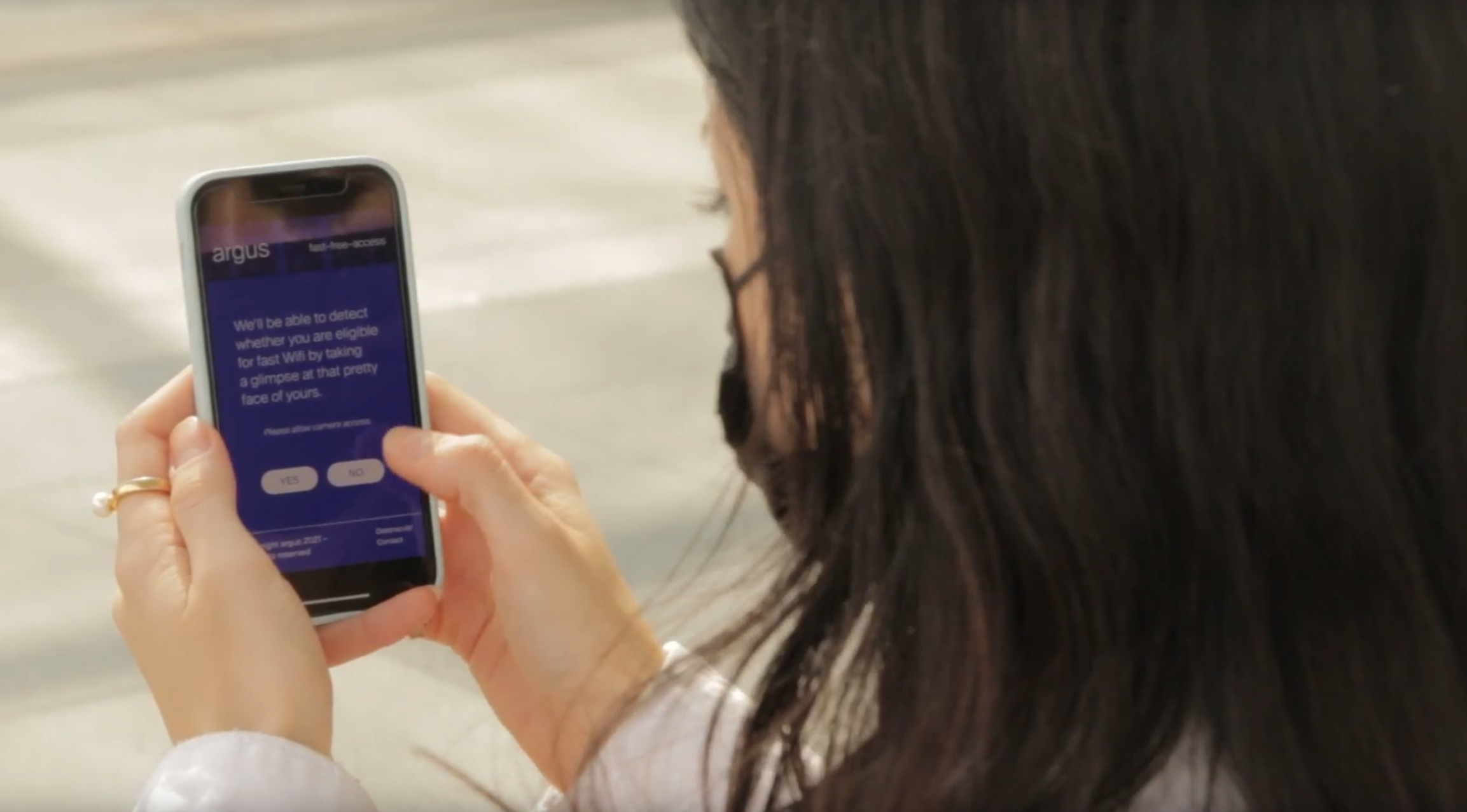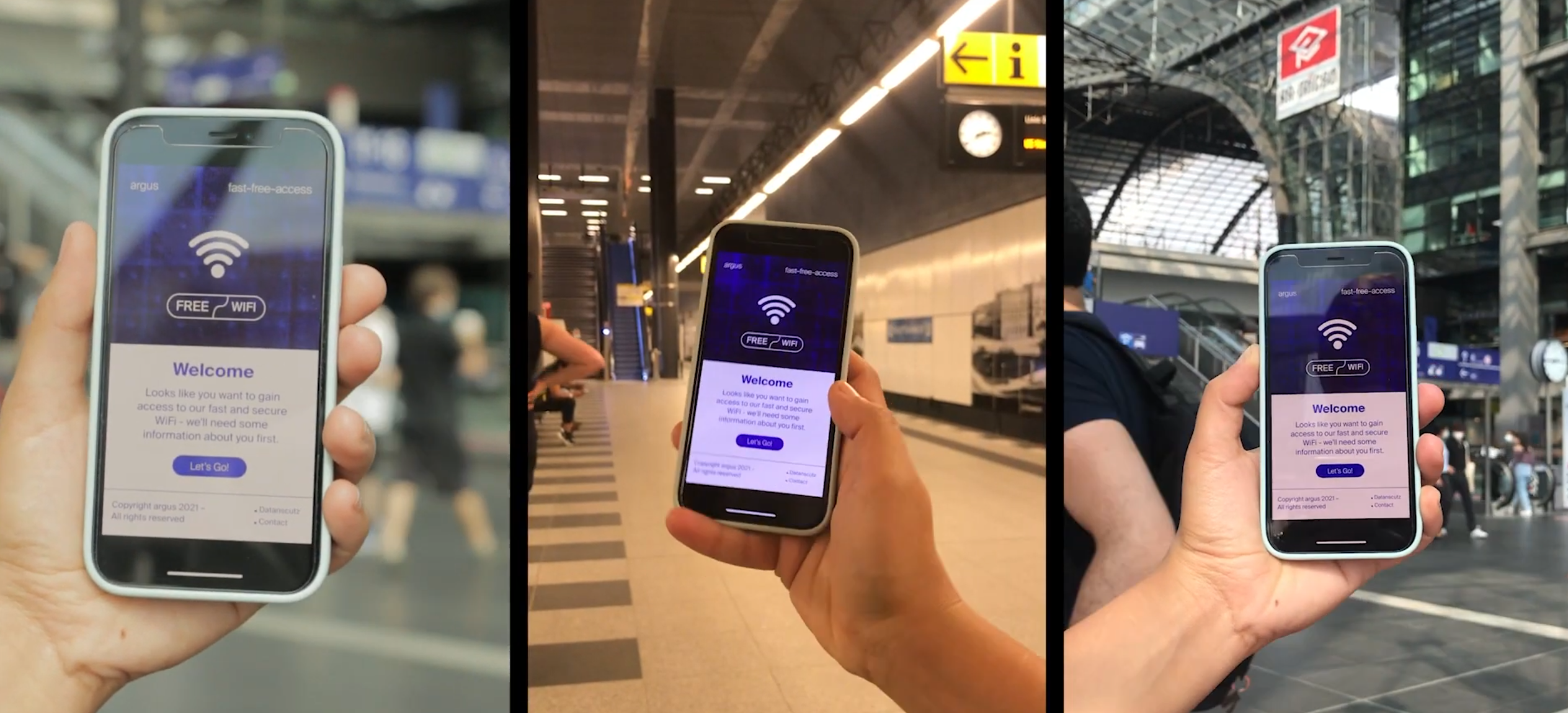 A campaign about the dangers of new invasive technologies being used on the European borders in order to track and capture, since those technologies inevitably end up being used on domestic surveillance as well.
We planted fake WiFi hotspots in public transit stations, and as commuters connected to those in the hopes of getting fast bandwidth, they were guided through a crash course on invasive technologies, concluding on a call to action to engage with their MPs regarding the
EU AI Act
.
This project was a collaboration with multiple artists and researchers, through
IMPAKT
and
School of Ma
's CODE NL-D residency.
Concept, prototype and web development
فضاء (fadaa)
spaces are like the future—unequally distributed.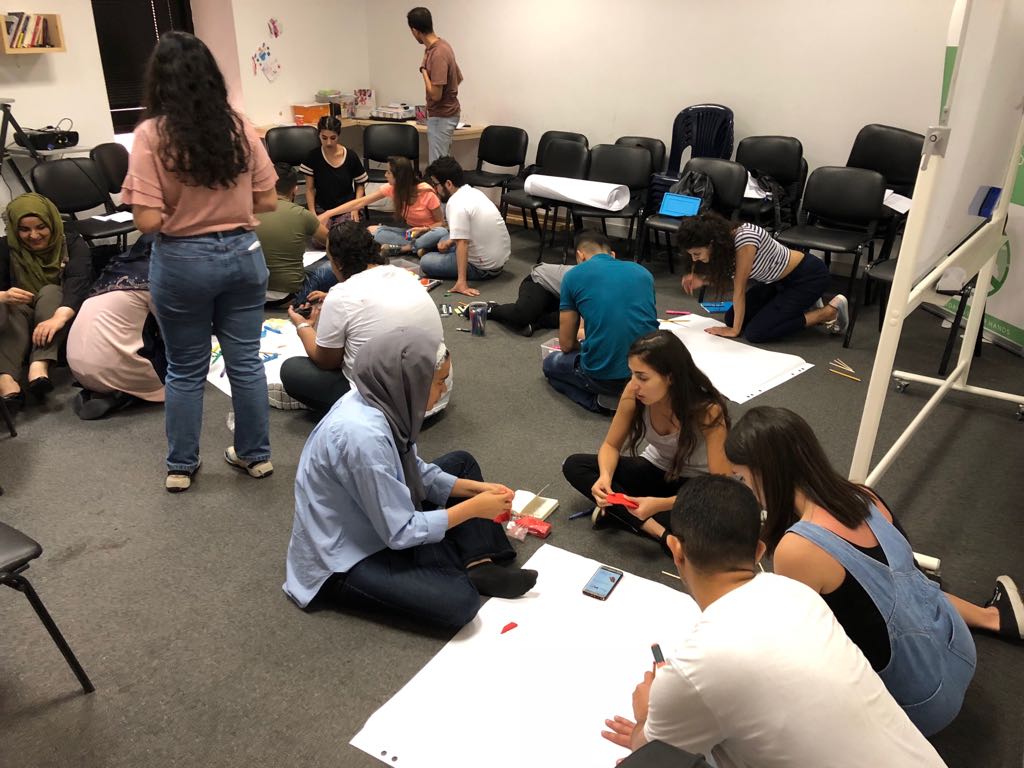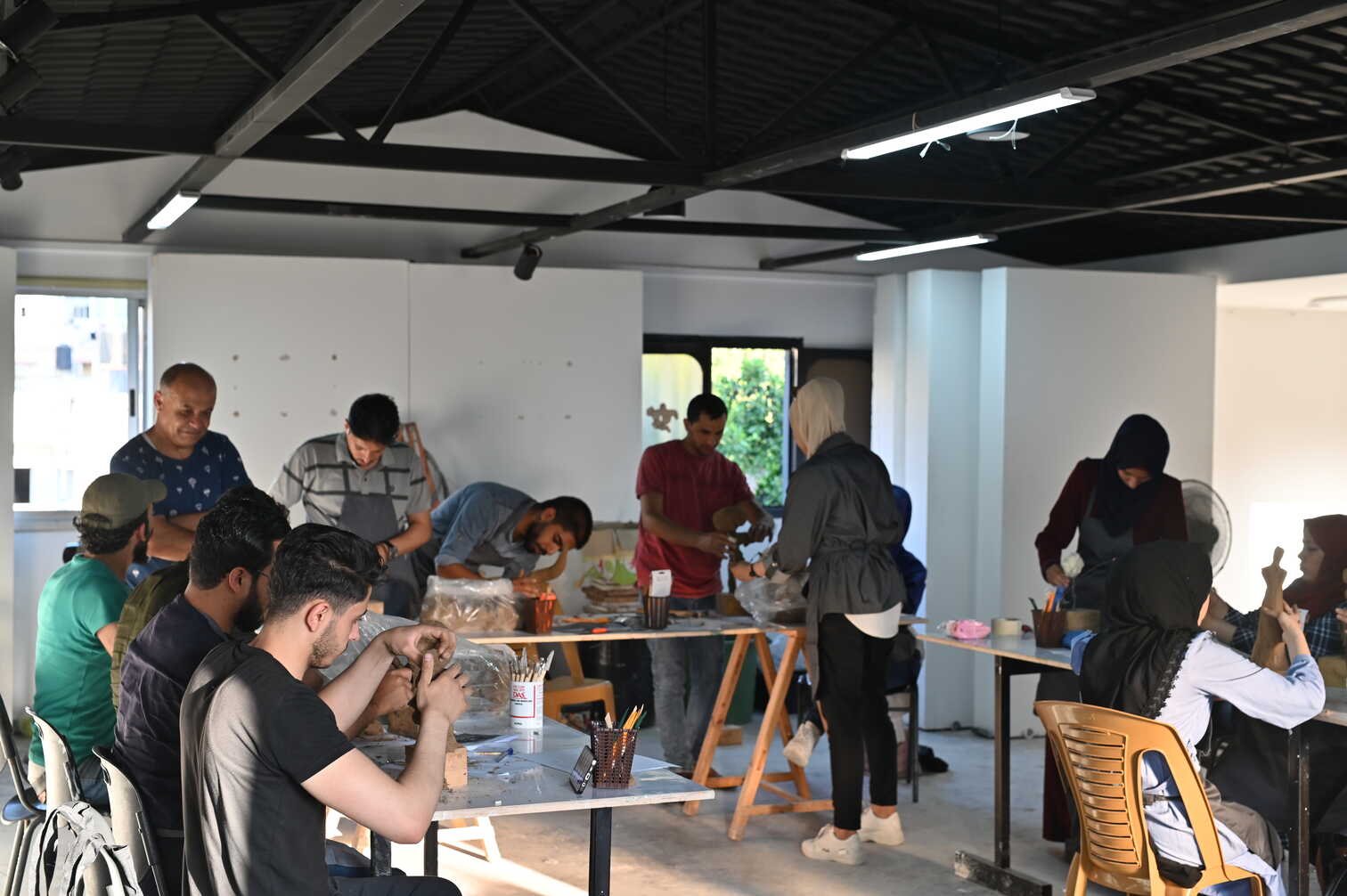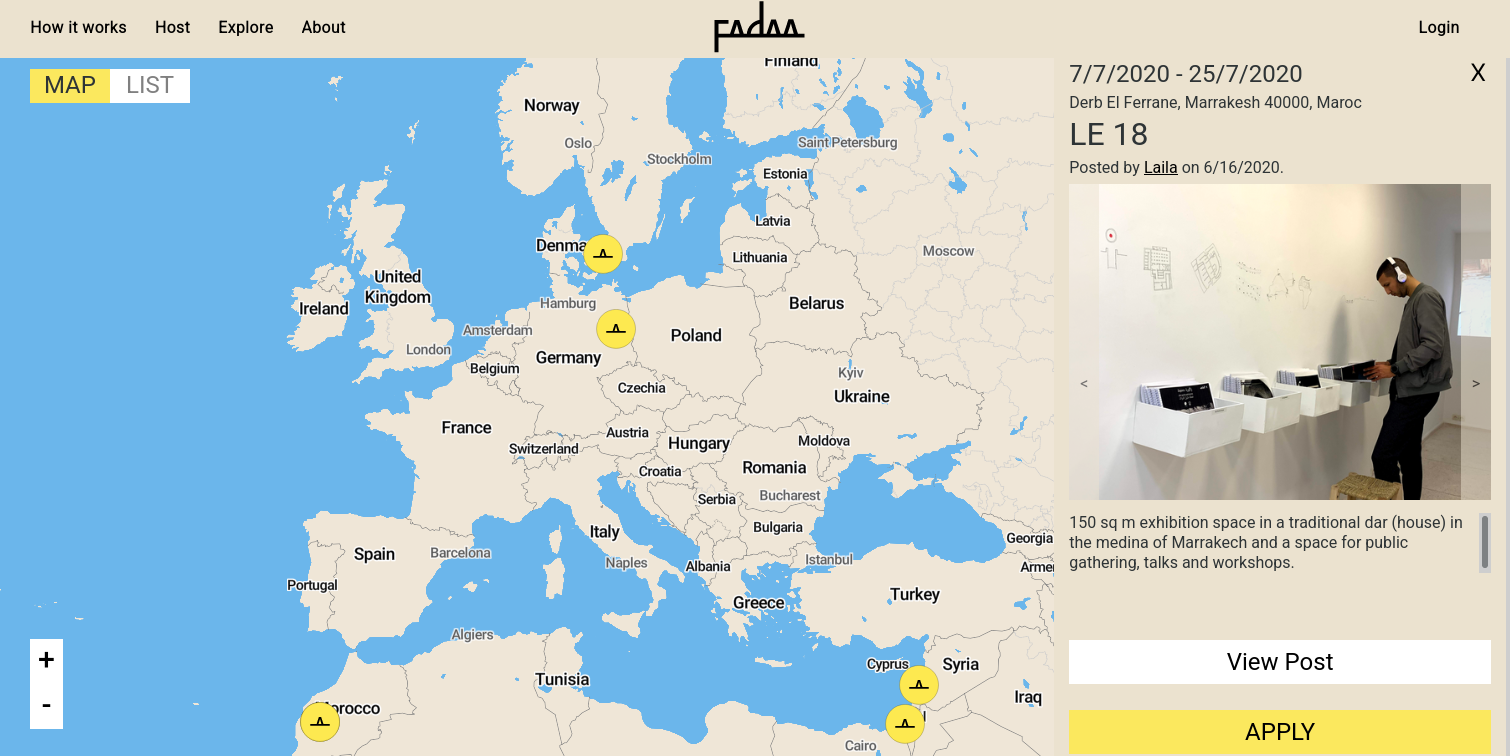 As our communications director would put it, 'FADAA is a non-for-profit platform that aims to empower individuals and entities from around the world to temporarily donate spaces and facilities to artists, creatives and collectives, at no cost.' Fadaa is a website which facilitates the sharing of spaces between those who have them, and those who need them.
In practice, it stands in the lineage of things like couchsurfing, in which people volunteer their time and space to those who ask for it; which could be a backyard, a recording studio, an empty basement, a vacant hotel lobby. after a couple of years of development and initial funding by the
Open Society Foundations
, we're now hosting initial spaces, mostly in what some call the global south.
recompositions
dream-like VR in the Paris subway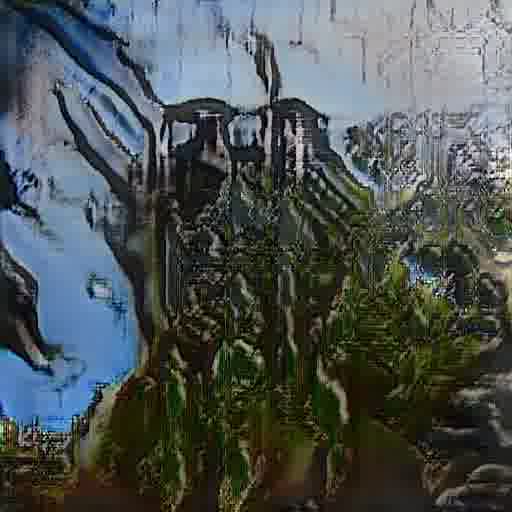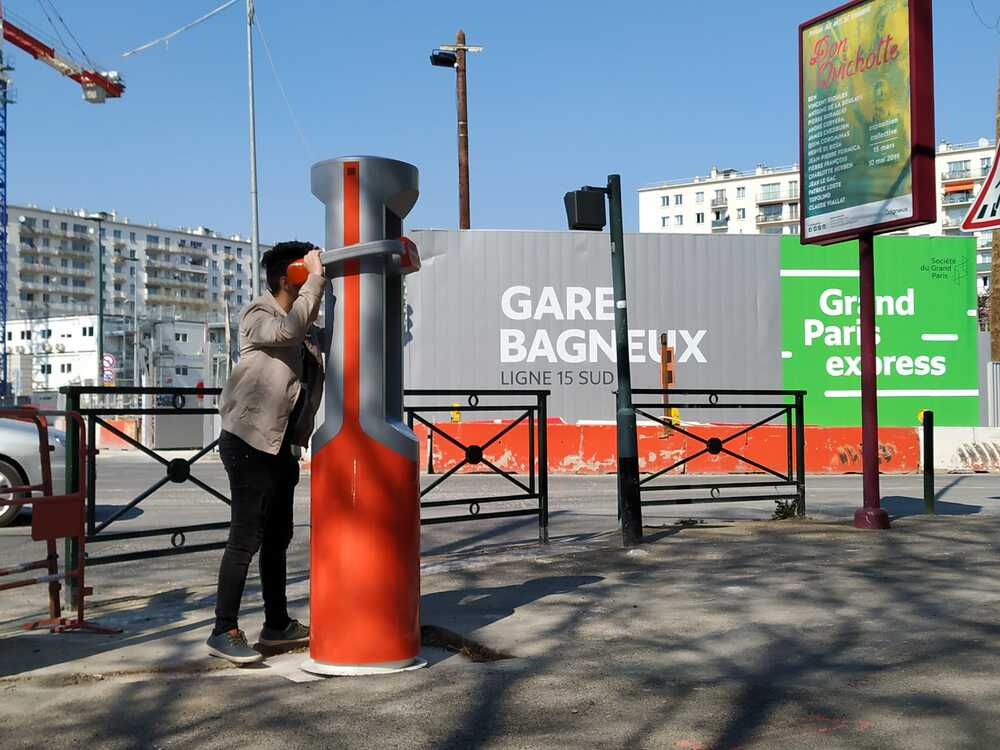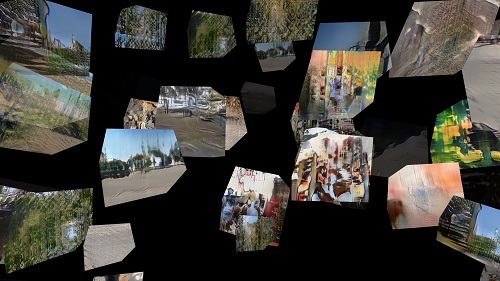 A video piece made with
Sarah Bastide
. It is a collection of fragments exploring the distance between human, subjective, individual speech and our visual, collective and technological imaginations. The work is a moving collage of documentary photography, interviews and machine-generated videos.
We wanted to offer a dream-like journey between a very specific, recognizable location—Sevran-Beaudottes—and an abtract landscape, that of digital extrapolations of neural networks, a difficult tension which always shadow the discourses which accompany the project.
Truth be told, Sevran is one of the city in france with the highest rates of youth unemployment, and one of the highest rates of drug use. I have mixed feelings about the fact that public money was spent on an ephemeral VR installation rather than on other, more essential services; and even if an artwork can provide an escape from a broken system, I personally feel like this piece wasn't up to the task.
Concept, GAN training, Unity development.
tty2020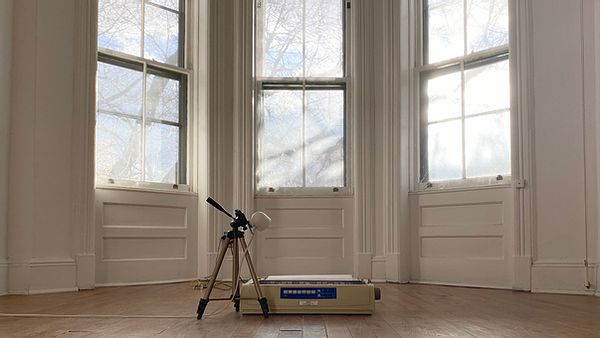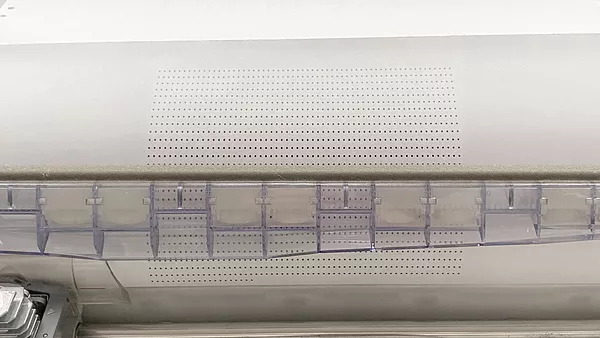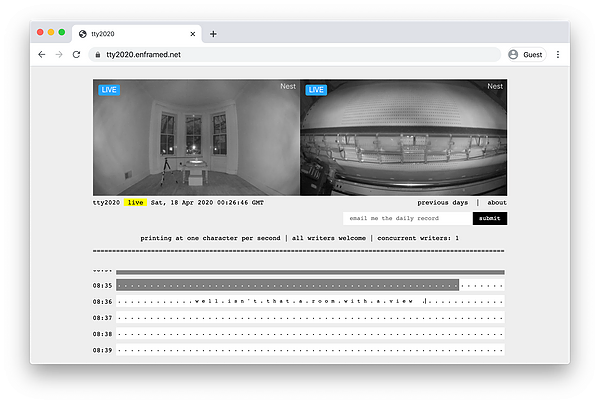 Technology frames our perception of time. Sitting by a bay window, a dot-matrix printer kept track of what happened during a month, in the Spring of 2020.

Via a website, any visitor can view all previously printed text, and enter new text to be printed, Until the moment it is sent to print, all text is readable only by its author, so she drafts in private. To everyone else on the page, her input is displayed as grey blocks. Every second, as the print head moves forward, it sets in ink each character in its path, rendering it public to all, externalizing the confined, both diary and broadcasting.​

Representing the concept of a networked stream (multiple users interacting on a single canonical thread) turned out to be much more complicated than expected, from a UI point of view.
We came up with the concept with
Pat Shiu
, she designed the website and configured the printer, while I developed it and programmed the print jobs.
below, just a point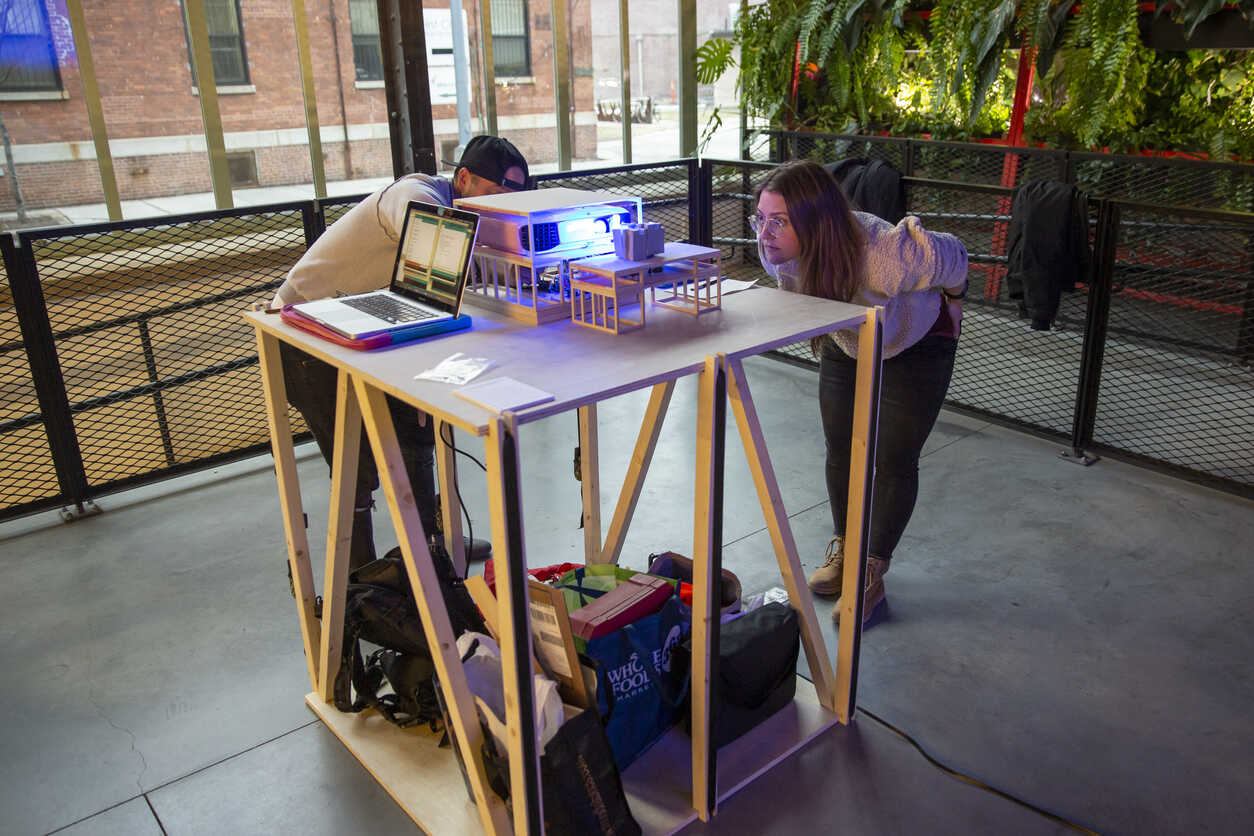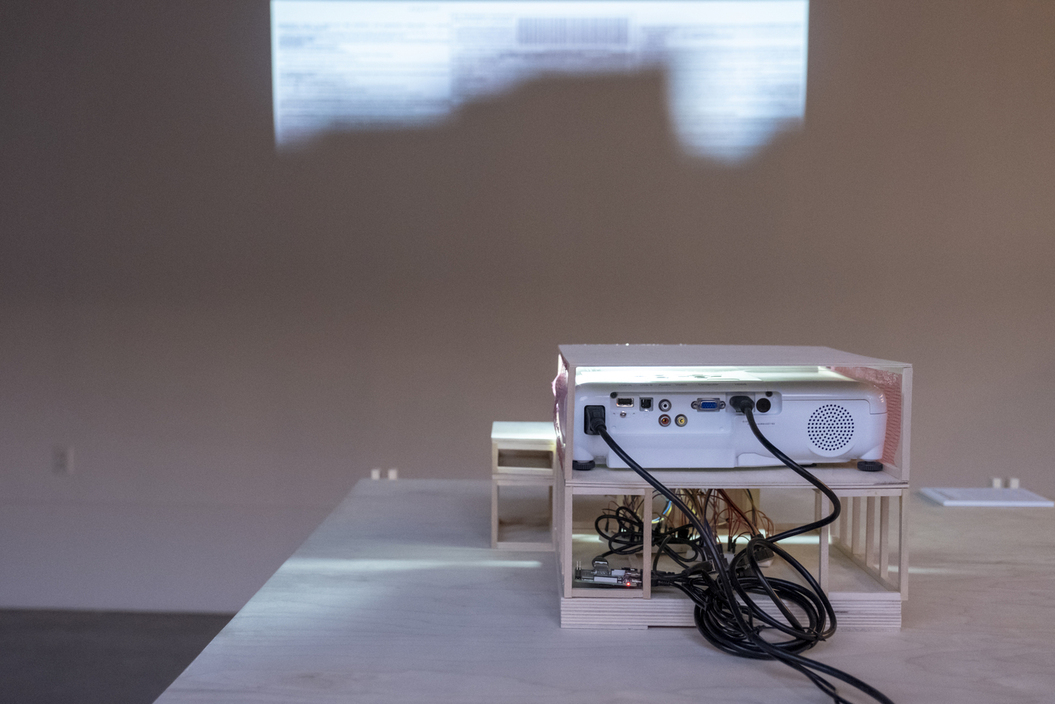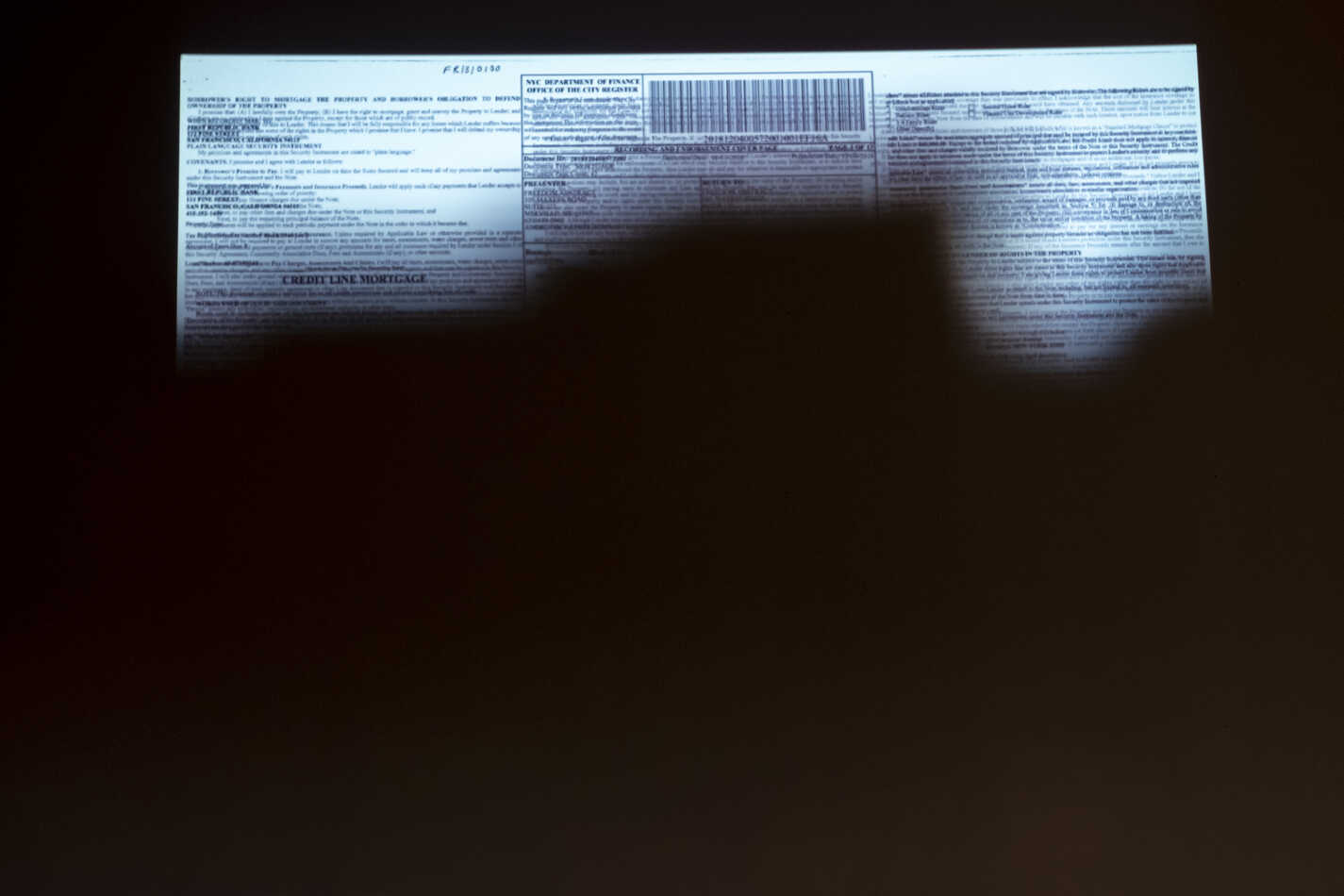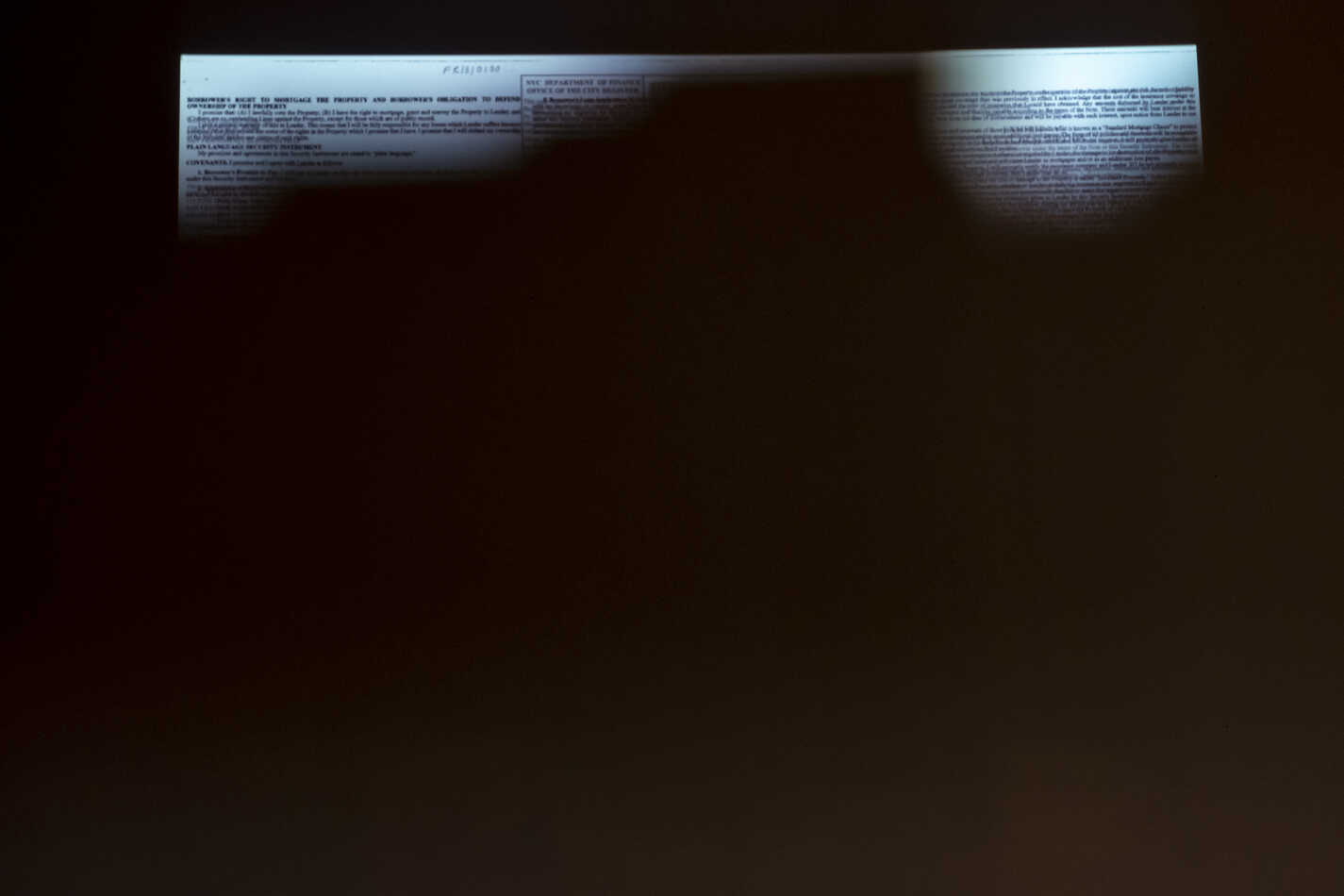 This installation wants to highlight the relationship between property transactions and the declining amount of sunlight that inhabitants are exposed to.
The amount of sunlight that urban zones are exposed to throughout the year is well-documented, and visualized using state-of-the-art technology; it is the experience of seeing the light disappear that prevents readers from knowing what it is, not to live in shadows, but to see the light disappear.
Meanwhile, as the buildings rise, they obfuscate the original act of their creation—the financial exchange of mortgages—as they get buried deeper and deeper into the
ACRIS
database, supposedly open, yet hardly searchable, hardly findable.
coroutines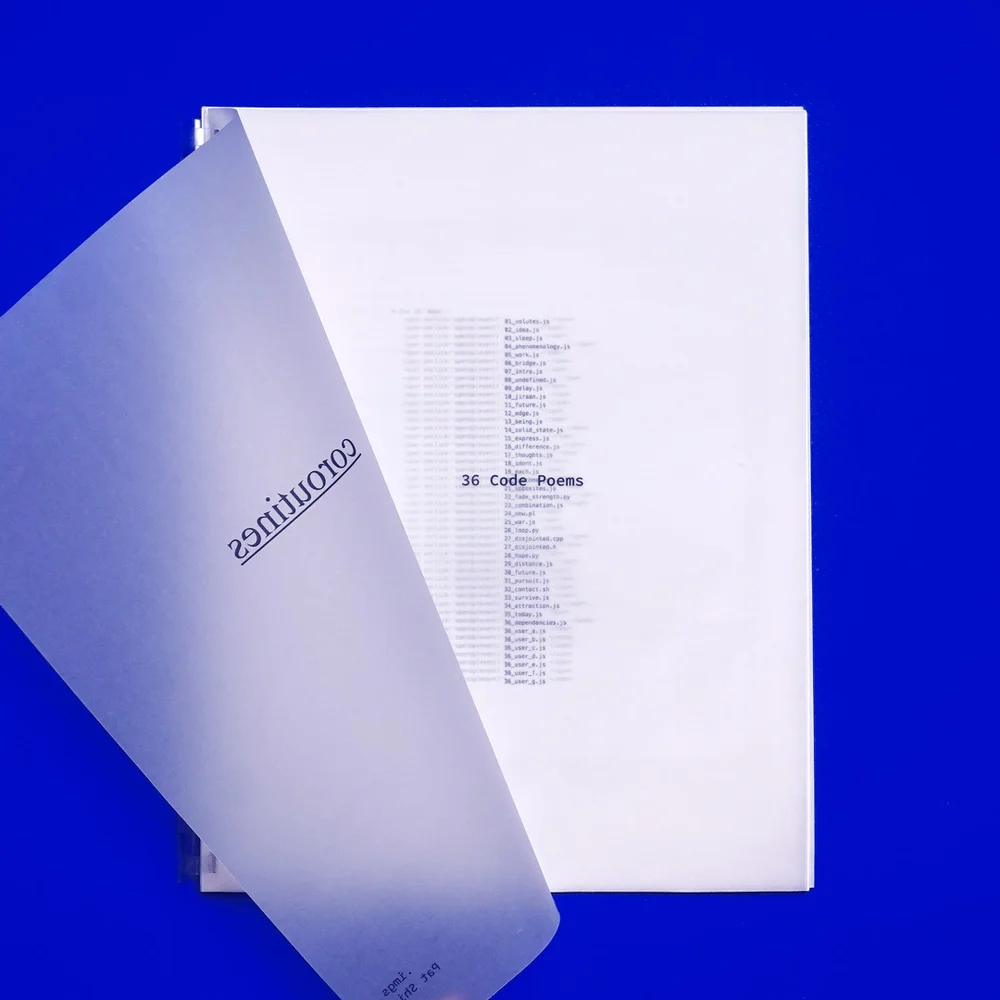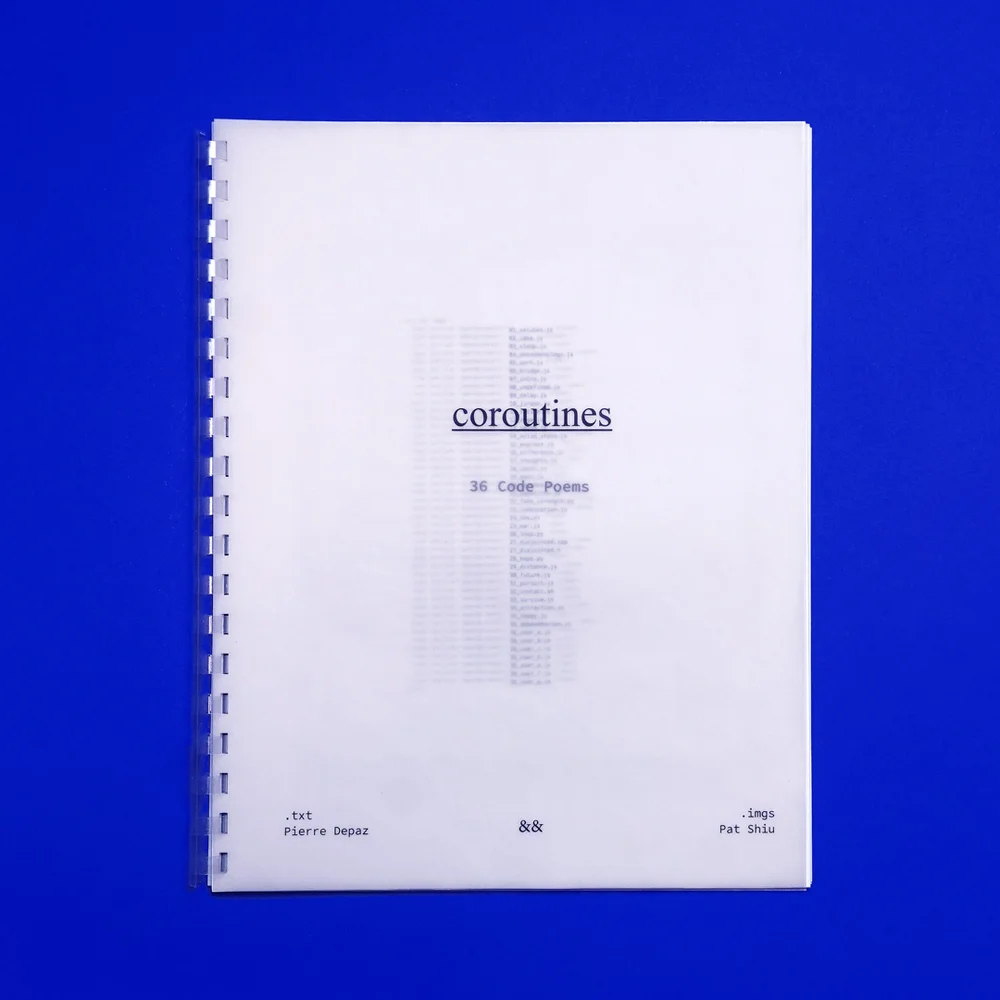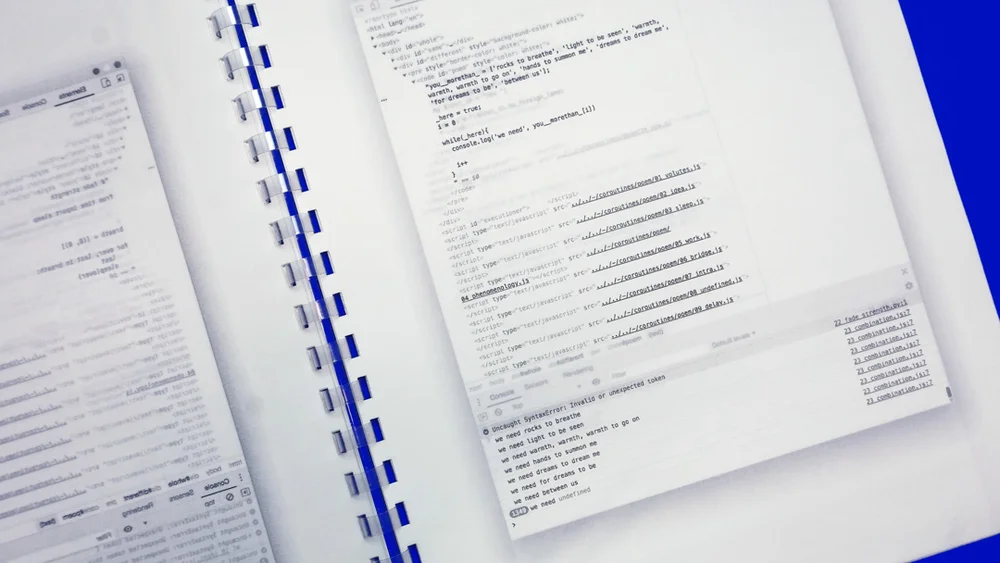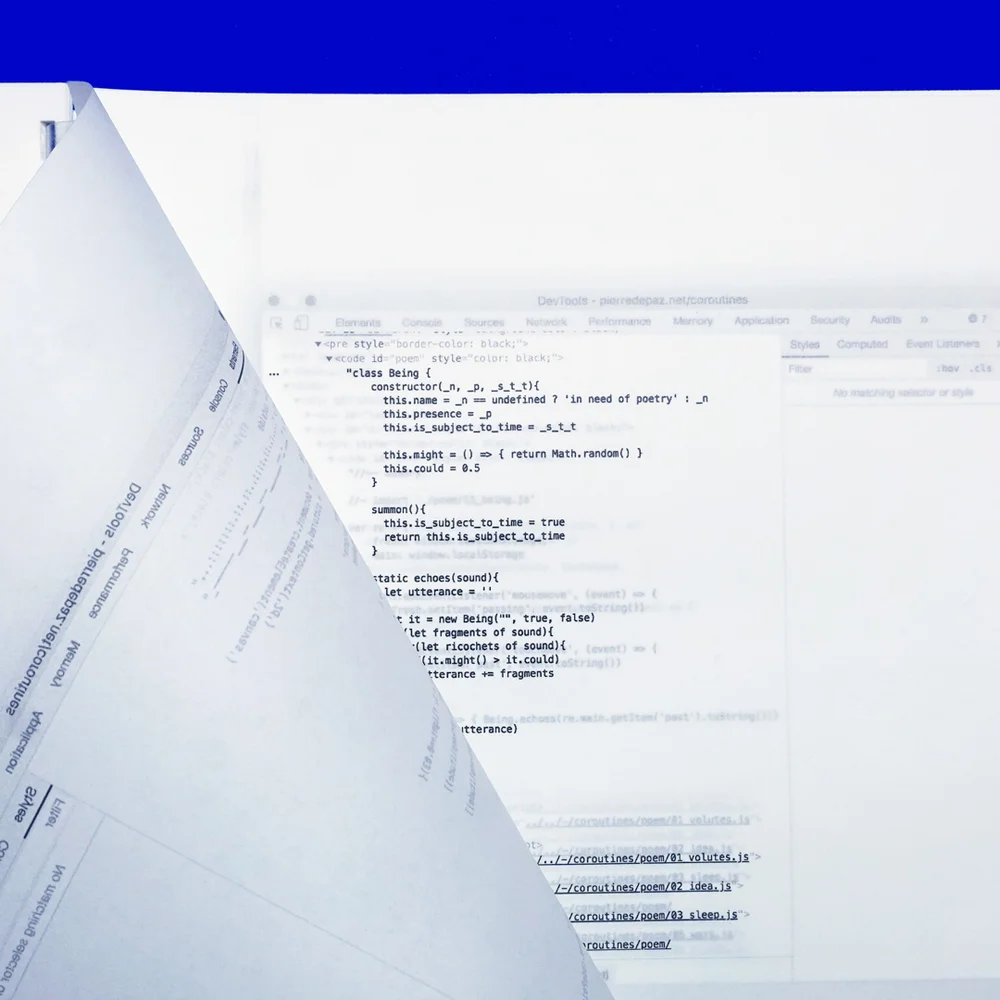 Coroutines is a collection of 36 days from the fall of 2017. Using the constructs of code, these poems each paint a different pictures; of alienation, of resilience and of adaption to a foreign land. This was an early work which would lead me to write
a whole doctoral dissertation
about this.
The collection is presented as snapshots of a browser's developer tools panel, inspecting the webpage where I originally publicly posted the pieces. By using techniques such as reverse-printing, layering and translucency, the poetic frames take on a new narrative life on the tactile page.
I wrote them, and
Pat
did the (incredible) book design.
long, short-term memory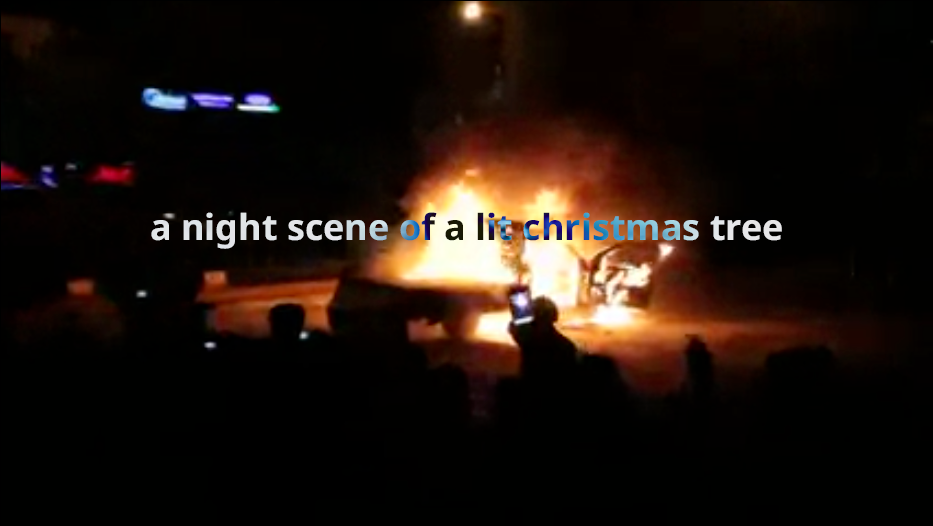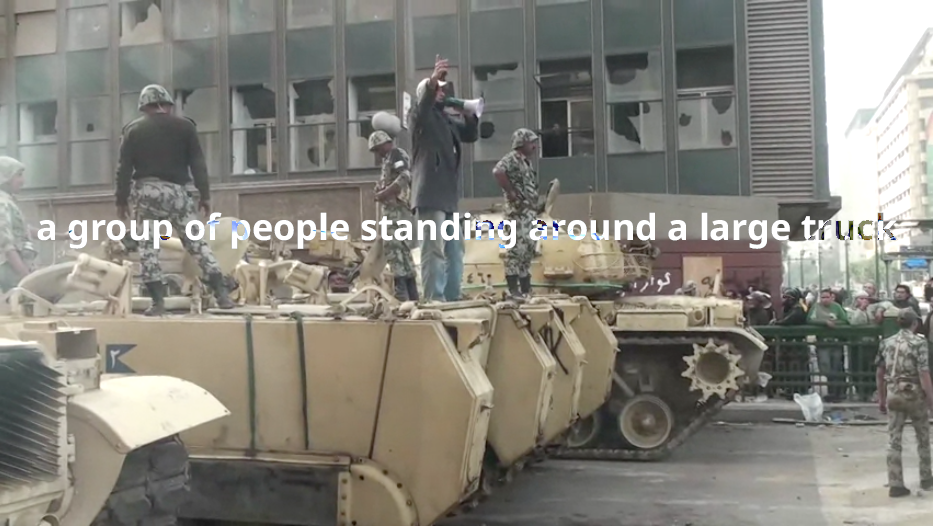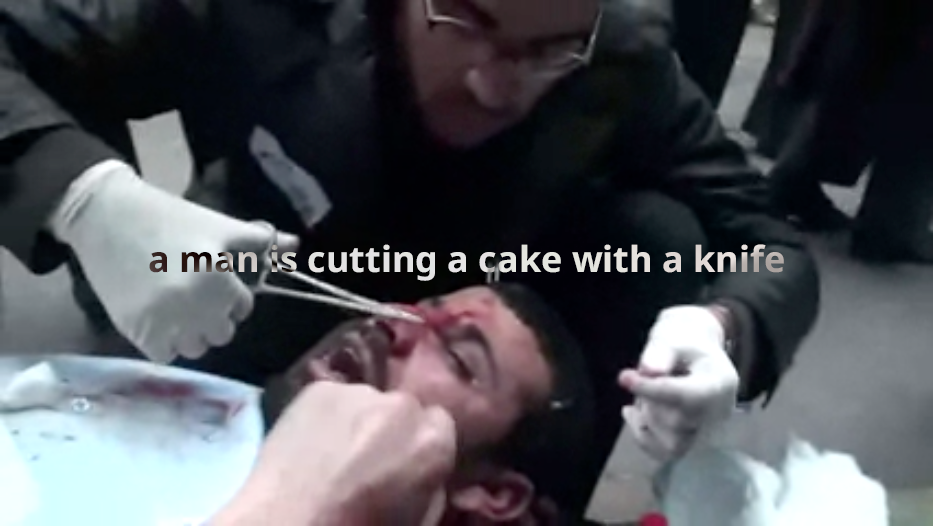 A generative video piece exploring the limits of artificial intelligence as a means to put words on objects and events.
LSTM recombines endlessly archive videos from the
858 archive
, and runs each segment through an image-to-text neural network, which attempts to give a written description of the image. The result is the spectacle of the failure of our technological fantasies: short, descriptive, cold sentences are overlaid on top of the videos, as if they were enough to convey the meaning of those moments.
The act of remembering and re-telling is in itself essential to process the intensity of the past and highlights yet another discrepancy between the human experience and the computer perspective. Instead of replaying those images as a coping mechanism, the AI only approaches it as training data, asking the question: once it can describe these images, how does that help?
Concept, design and development (ML work done in
Runway
).
the litany
large-scale, second-hand, smartphone installation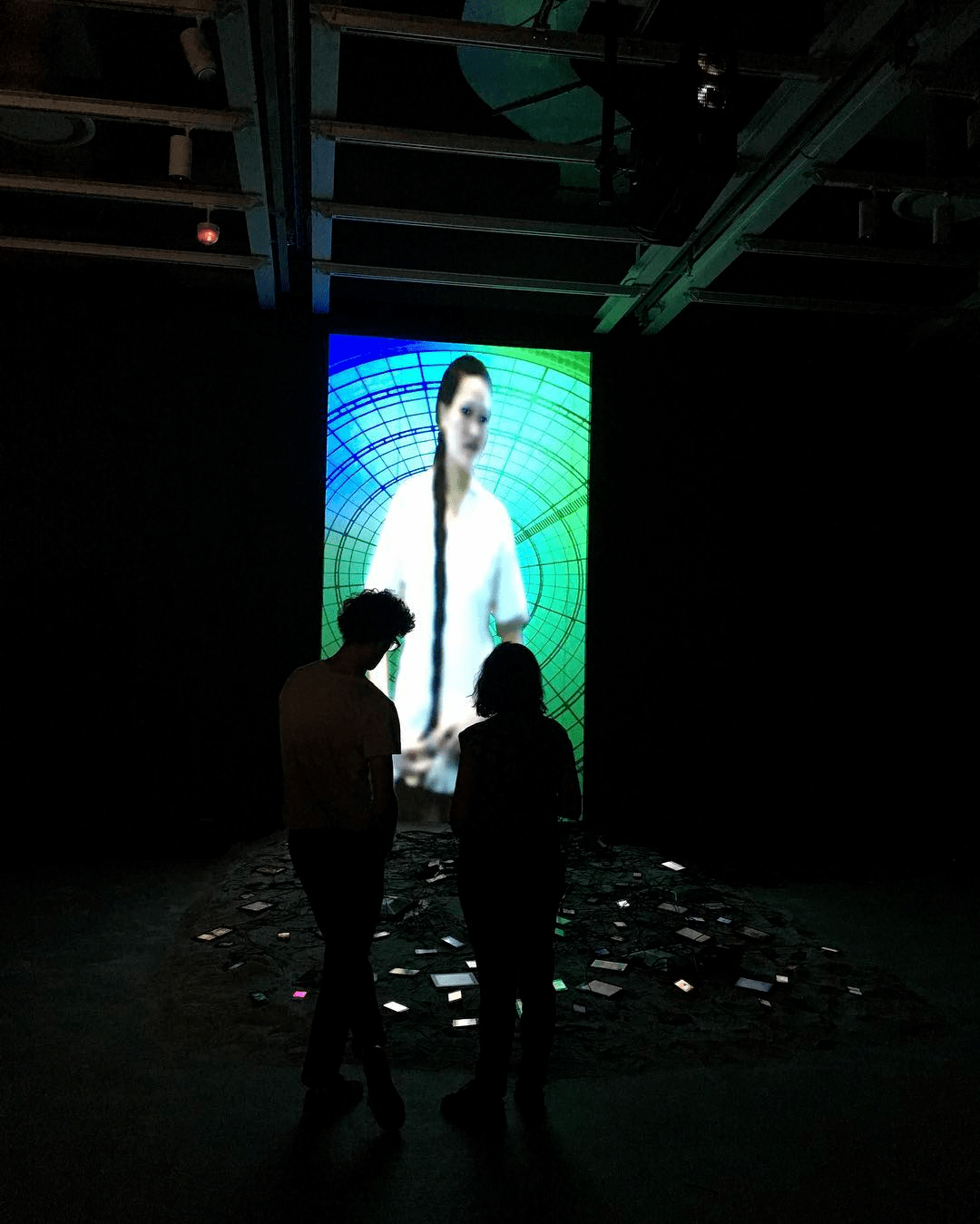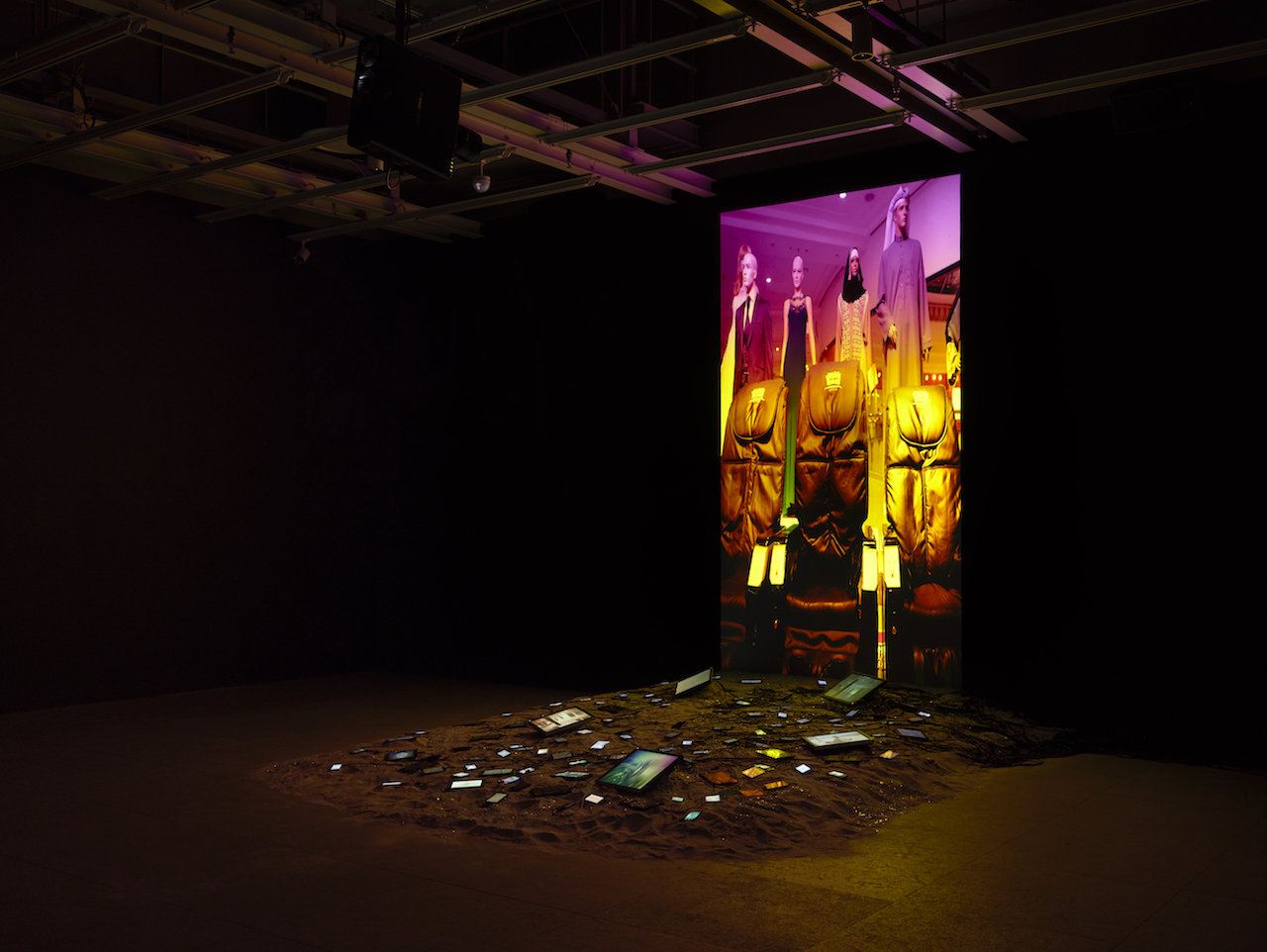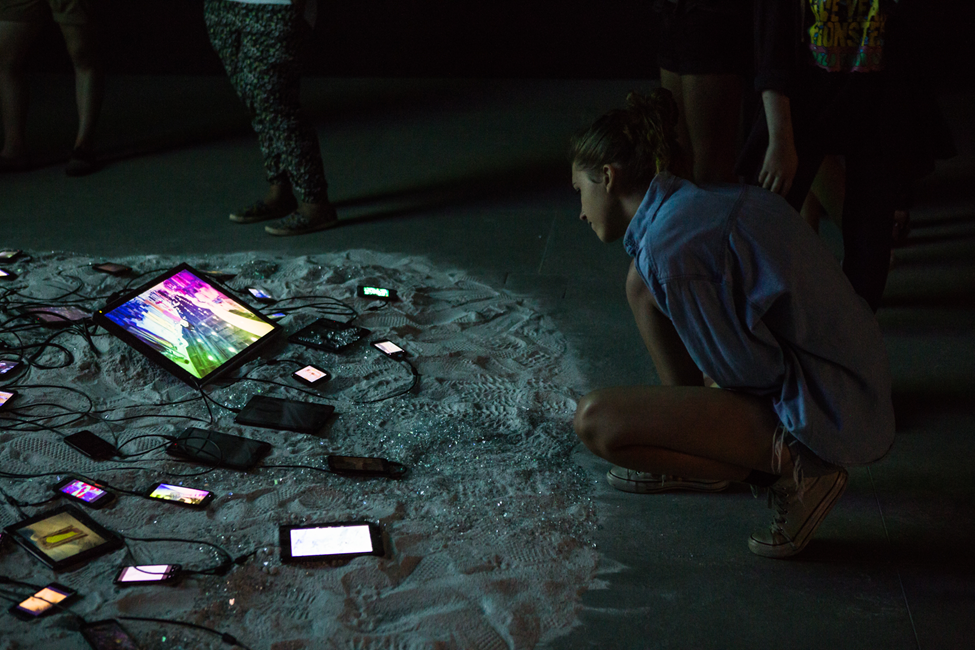 I was hired by the Whitney museum to make an artwork come to life. The installation involved 100+ second-hand mobile devices, which all needed to loop a specific video for three months. My first task was to figure out how to get all of those devices, with a budget of less than ten dollars per device.

The second task was to figure out a consistent way to play a video across devices. Since some had no sd card, no wifi capabilities, faulty browsing capabilities, this ended up in me learning how to do native Android development. I also found interesting footage left on some of the second-hand phones.